May 1, 2005
3,452
1,040
113
First Name

Jeff
This just released from Cars.com - wasting no time since the acquisition of DealerInspire.

We are excited to announce that the Conversations Starter™ Package will launch on Cars.com for your dealership the week of 4/16. Conversations Starter™ Package is built on the Dealer Inspire messaging platform that can connect you with in-market consumers as they are researching on Cars.com. Chats initiated on Cars.com will be answered by an AI chatbot and transferred to managed chat agents who convert the chats to leads which are sent directly to your CRM.

Conversations Starter™ Package helps you to:
Drive Incremental Connections: Turn chats into conversations that convert to sales.
Never Miss an Opportunity: Connect with consumers any day or time.
Future-Proof Your Dealership: Move the modern consumer closer to purchase.
Here's an image from the more info page...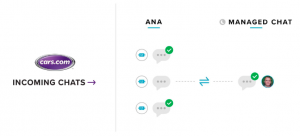 My first question was; what if ANA can't answer the question?? Cars.com has an answer...
"If Ana cannot answer a question, she passes it off to a team of managed chat experts to continue the conversation before converting it to a lead on behalf of your dealership and routing it through to your team."
What exactly do they mean by "
routing it through to your team?"
Does the dealership need to be with Dealer Inspire?
More importantly, is this a game changer in the vehicle listings/marketplace landscape??