Sep 22, 2013
10
9
3
First Name

Matt
Hey All,
New to the forum, but wanted to thank you all for your contributions. Always entertaining and informative to read. I was hoping to open a dialogue about custom content on FB/IG - and what ya'll think is working (or not) for you.
Programmatic approaches aside (dynamic inventory retargeting, etc...) - I'm just discussing custom made creative content produced by your teams - including outside agencies - if that's how you roll.
My macro view and goal for our group on social - humanize the brand.
Recently, I was discussing with my team the value (or cost) associated with custom video content and whether it's worth the effort...we have some reoccurring content pieces we make in-house (with a little outsourced help) such as:
- a dealership tour/highlight show modeled after
mtv cribz
- a mini doc series profiling each
store GM
- custom
animations
for giveaways, etc.
- an employee spotlight
each wednesday
Some of these pieces of content are more expensive than others - both in terms of labor/attention/time resources, and actual invoiced dollars.
So focusing in on
one video
- from FB business metrics > audience retention, an example of engagement: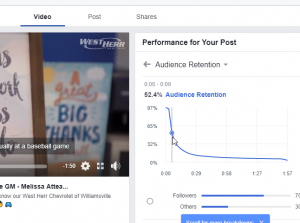 50% of audience lost by :06, only about 5% watch to the end!

Pretty disappointing! Although on it's surface we might feel ok with 'views' or 'shares' or 'comments'...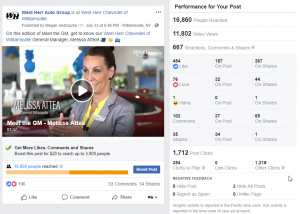 Most videos we've made have very similar engagement patterns. I suppose we could ignore this and high five each other with the vanity metrics but that seems silly and it feels (to me anyway) 'expensive' and a 'luxury' to produce.
So I'm wondering if anyone is having measurably different success with engagement on any video content?
Cheers!