Oct 16, 2018
37
15
8
First Name

Erika
Today, our country is honoring the passing of an American president. No matter your political views, I think we can all agree that President Bush made an impact on our nation. It's amazing the weight that
leadership
can have on the success or downfall of any organization.
"In crucial things, unity. In important things, diversity. In all things, generosity." - President George H.W. Bush

What do you think makes up a strong leader?
Is it through his or her interactions with your team? Is it how they handle stressful situations? Or how they inspire the dealership staff to push further and strive always to improve?
At Dealer Authority, we are continuously evaluating how our management
team
is operating. We review our successes and our challenges as a team and work together to find solutions that help us run as smoothly as possible. Our theory is that if we are a well-oiled machine internally, it can only have a positive impact on our clients and the success of their digital marketing. At the end of the day, they are our #1 priority. Our managers are able to lead their teams with a common goal in mind - and that is what makes them strong leaders.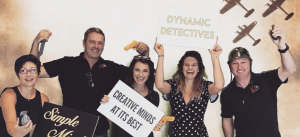 DA Managers with some of our Raleigh, NC crew at the All In Adventures Escape Rooms.
​