Feb 17, 2021
18
23
First Name

Jake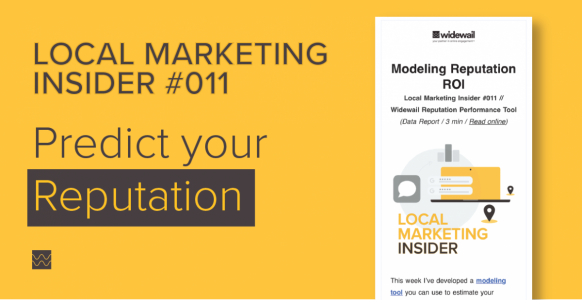 This week I've developed a modeling tool you can use to estimate your reputation performance for the next 12 months.
The only information you need to have on hand:
Monthly transaction volume
Current Google rating
Lifetime review volume
I'm going to explain some details behind the model below, but if you want to get right into the spreadsheet and start experimenting you can download it now. I've included directions in the spreadsheet.

How the model works
Assumptions:
Review request sent to every customer post-transaction using SMS and personalization
Review request to review conversion rate of 20%
90% 5-star reviews, 10% 1-star reviews

Looking at Widewail data (300,000+ engagements), 90% of reviews are positive. For simplicity, I've made the positive reviews a rating of 5 and negatives 1.
Model inputs:
Monthly transaction volume
Lifetime Google review volume
Lifetime Google rating
To preface, Google's lifetime review calculation is
not as simple.
I've used a weighted average. Google notes the score is calculated using ratings and "a variety of other factors". Namely, ratings from other reputation and social sites. So, take these estimates with a grain of salt.
See an example
Inputs:
Rating: 4.2
Lifetime volume: 100
Monthly Transaction volume: 200
Results: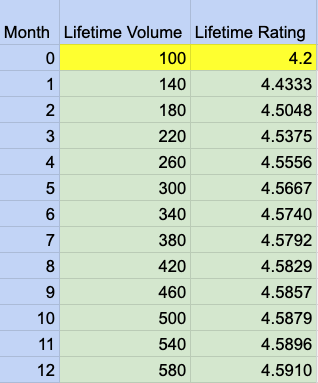 For a business with a baseline of 4.2 stars, 100-lifetime reviews, 200 transactions a month, and a 12-month review generation strategy, the model predicts an outcome of
580 reviews and a rating of 4.59.
What stuck out to me is the fast jump from 4.2-4.5 in the first 2 months.
Establishing a consistent frequency of good reviews has a significant positive impact on ratings.
You'll notice the rating increase slows down from there, approaching 4.6 over the rest of the year. Given the rigid 90% 5-star review parameter, the best rating possible is 4.6.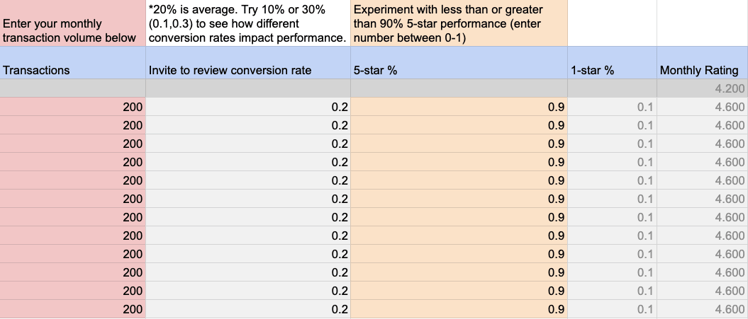 But of course, your business is likely to see more variability than that. This is why I've put together the model into a spreadsheet that you can experiment with yourself.
Input your current star rating, lifetime volume, and monthly transaction volume. Experiment with different transaction volumes and 5-star percentages to see how different performance metrics impact your reputation over time.

Thanks for reading. I hope the model provides clarity. Gets you started in the right direction. Learn the rules like a pro, so you can break them like an artist.

If you aren't already signed up, please subscribe to get Local Marketing Insider 2x/month.

See you in 2 weeks - Jake, Marketing
---
Insider Alley
More ammo for your marketing meeting
Google has
begun rolling out
its "Core Update". A significant rework, businesses should expect to see changes in rankings as a result.
Watch Widewail CEO, Matt Murray, explain
why displaying trust broadly
is critical for modern business success.
Take a deep dive into
how reputation signals impact SEO
on Google.
1
Reactions:
jon.berna