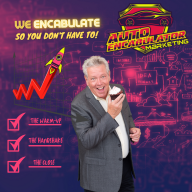 Jul 19, 2021
23
21
First Name

Chad
When I first met Neil Leslie Diamond he was slangin' bagels in upstate New York. After ordering a dozed Asiago bagels I invited Neil and his best friend, Herb Cohen, on a nine day Encabulation retreat.
We hunkered down in a small cabin near the Catskill Mountains, whereI taught the young men the art of Encabulation. Neil found his inner power…he also fell in love with my hairless Persian cat named Caroline, which he quickly nicknamed "Sweetie." The rest is history! Find your inner power today.
Learn more at AutoEncabulatorMarketing.com.
If you'd like to know how what happened to Herb Cohen click here:
https://vault.si.com/vault/1971/03/08/but-what-else-do-you-do
#autodealers
#autodealership
#autodealer
#autodealerships
#autofinance
#carbusiness
#dealershiplife
#dealershipmarketing
#dealershiptraining
#moneymindset
#moneymaker
#salescoaching
#salesdevelopment
#rocketship
#success
#sales
#entrepreneur
#FeelTheNeil
#NeilDiamond #RhinestoneWayOfLife