Feb 17, 2021
34
34
First Name

Jake
Widewail has maintained the same goal from the beginning: Help local businesses build trust with the communities they serve.
A few months back, we set out to expand upon this. To provide more tools for businesses looking to build trust. Taking all that we had learned from Invite, we asked ourselves, "How can we apply a similar process and technology to
video reviews
?"
Why video? Video is an incredibly popular and persuasive tool. Video watch time is up 249% in the past 5 years. Half of Gen Zers say they "can't live without YouTube."
But most importantly, when we asked our clients if they had collected video testimonials before, the feedback was consistent: it's just really hard.
Five common pain points came up:
1. We don't have time to collect videos.
How Invite Video solves this: With automation, Invite Video does all the work for you.
2. The process is hard for the customer.
How Invite Video solves this: Our flow from SMS to video submission is quick and straightforward. Just a few clicks on the phone, no downloads or changing devices required.
3. Customers are disengaged with the process.
How Invite Video solves this: By using SMS we help you send requests to your customers where they are most engaged, their phone. Optionally, target customers you already know to be highly engaged, such as those who have recently left a five-star review.
4. When we actually get video reviews, they're not good.
How Invite Video solves this: Engaging with more of your customers on a monthly basis helps you find the best
video testimonial
opportunities in a crowd.
5. The process is too expensive.
How Invite Video solves this: We propose a different approach to video. Leave the expensive film crews behind. Instead, use technology to create a constant stream of user video content month-in, month-out.
5 Features of Invite Video​
Automation​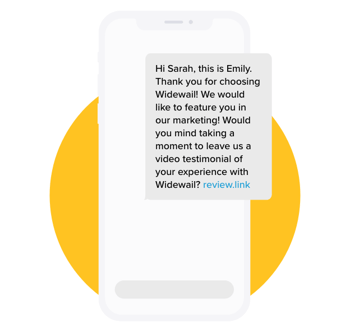 As a technology partner to our clients, this is really where our products shine. We know generating a critical mass of customer feedback is really a numbers game when it comes down to it. Take every opportunity you have to collect a review. With technology, the process is much easier. Our software never takes a day off. By integrating with your CRM, we are able to automatically trigger an SMS request based upon a closed sale.
Explore our integrations. We are adding new options monthly, and if you don't see your technology please reach out regardless. The best way for us to prioritize new integrations is through client partnerships.
Advanced Configuration​
We've built the product to be flexible and targeted, giving you the ability to generate the video reviews you believe will best help your business grow.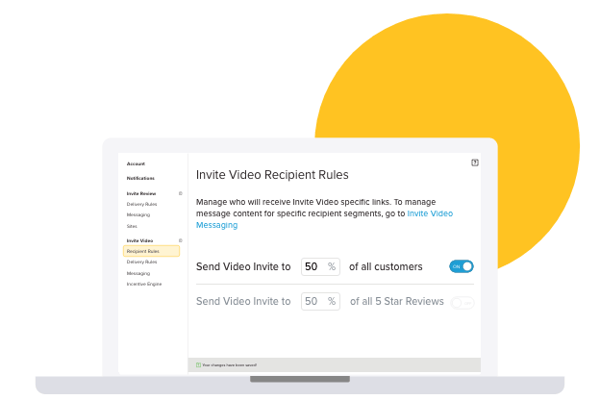 The settings hub allows you to customize delivery and recipient rules to help you reach the people you want. For example, some ways you can target:
20% of all customers
50% of the customers in a specific department
Everyone who has already left a 5-star review
Custom Messaging​
Same as with Invite, you can customize the text within the text message, the email, or both requests separately. Make your messages more personalized with tokens such as [CUSTOMER NAME] or [SALESPERSON NAME]. Widewail will automatically insert token information based upon data in your CRM.
Built-in Legal Release Form​
This may be the dark horse for the greatest feature of Invite Video. A true differentiator, upon video submission each customer will be required to sign a release, granting the business license to use the video content for marketing purposes.
When Widewail notifies you of a new video submission you will already know the release form is signed.
Your business has the freedom to use the content wherever is most impactful: website, social, ads.
We store a copy of the release form along with the video in the Invite Video library for reference if needed.
The beauty of
Invite Video
is in its simplicity for the marketer. The technology takes care of the collection process from start to finish, allowing you to put more time and energy into using positive customer video testimonials creatively and getting them in front of more potential customers at key decision-making moments.
Incentives Engine​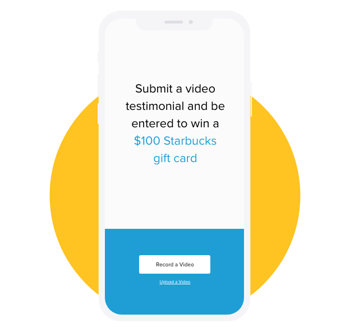 Expected early 2022, Incentives Engine will seamlessly integrate custom offers, discounts, giveaways, or contests into the video collection process.
We understand that asking a customer for a video is more significant than a Google review. But because Google does not currently host video reviews we don't have to worry about any of its rules around review gating or inappropriate incentives.
For example, to boost video review submissions you could offer a $100 gift card to a local shop every month. It's not uncommon for local businesses to already be doing something along these lines. With Incentives Engine, you just put in the reward and the timeframe and Invite Video takes care of the rest: collect entrants, randomly select a winner and notify your team.
Add Incentives Engine into your process to boost conversion rates.
Jake here - thanks so much to the DR community this year for supporting Local Marketing Insider. It's been one of the most enjoyable parts of my job to share new ideas with the community. LMI #022 comes out next week, I'll be digging deeper on Trust Marketing (a new way to think about building trust). And if you're curious about getting more customer videos, learn more about Invite Video. Thanks all and happy holidays!
1

1
Reactions:
Jeff Kershner and Ryan Everson