Feb 8, 2021
23
15
8
First Name

Allison
Cars.com revealed new survey data, finding that 54% of parents plan to drive their children to school, rather than send them on a school bus. As COVID concerns continue nationwide, reliance on personal vehicles stays top of mind.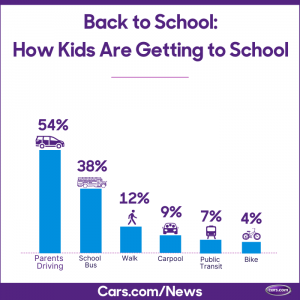 "While many parents are eager for the return of in-person learning this fall, nearly 90% are concerned about the delta variant and, as a result, are choosing different modes of transportation for their school-aged children," said Jenni Newman, editor-in-chief for Cars.com and mom of two boys. "It's not surprising that parents are prioritizing health and safety, and by driving their kids themselves, parents feel they can better protect their family — even if it means longer drop-off lines or for many, a disruption to their family's daily routine."
This is an opportunity for dealers to help families looking to buy a car find the right features to help navigate through this time and keep peace in the family. Here are some features Newman recommends for parents to consider when purchasing their next family vehicle.
For the parents who previously took advantage of the school bus, 55% cite COVID-19 as the main driver in their decision to find alternative transportation, and nearly a quarter of respondents are using their personal vehicles even though it negatively impacts their daily routine.