Mar 24, 2020
43
37
18
First Name

Matthew
Behind the scenes, the same valuation methodology that powers the SNAP trade-in tool also powers many of the digital retailing tools, all done via the TradePending API. We're excited to share that Carpraze picked our API over the others to power their vehicle valuations.
Official post here
and also copied below.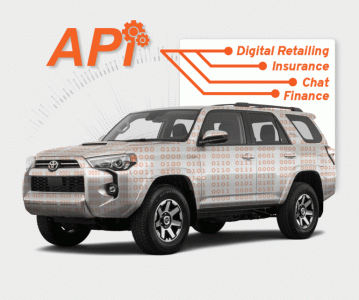 TradePending, the automotive industry authority on vehicle valuations, signed an API data integration agreement with
Carpraze
to provide vehicle values and data for their dealer acquisition platform.
Carpraze helps dealers acquire more inventory across as many channels as possible. They needed consistent, reliable, and market-specific trade-in values to power the valuation step in the acquisition process. Their team turned to TradePending to deliver the trade-in valuations within their products.
In use by over 3,000 franchise dealerships and integrated across 10,000+ websites, TradePending's approach to valuing used cars remains the only solution that measures local retail "ask" prices of vehicles, and updates them daily, as opposed to using non-transparent "book" values.
"Our products hinge upon accurate and reliable vehicle valuations," says Carpraze CEO and Co-Founder Steven Devries. "TradePending has one of the best valuation methodologies available in the market, and their API makes it easy to bring that data into our products."
Carpraze will use TradePending's data, along with their own data, to help dealers understand the daily and local changes to the values of vehicles they may take in on trades.
"We are seeing an increase in the interest and need for reliable auto values that keep pace with the changing vehicle market in North America," comments Joe Dallas, Chief Business Officer, TradePending. "The problems that Carpraze solves are worth solving, and we love how their products approach them. We're thrilled our API can be a part of their solutions".
The TradePending API
makes available the real-time delivery of vehicle valuations in any product that needs trade-in values. Every data point presented to customers in their customer-facing market report is available through the API, allowing developers complete control of their own user experience.
About Carpraze
Carpraze offers a system to help auto groups move their pre-owned operations in a disruptive, bold, direction. It centralizes their appraisal activity, and ties them into a network of B2B buyers and sellers. The team is excited to bring AI, and cloud based systems to the pre-owned vehicle business, and fundamentally improve how the industry operates today.
https://www.carpraze.com
About TradePending
TradePending's mission is "simple automotive", bringing dealers and consumers together across North America. SNAP, the disruptive trade-in tool, brings transparency, elegant data visualizations, powerful mobile usability, and 300% more leads than competing solutions. The Buying Platform empowers dealers to customize their trade-in process to match their inventory sourcing strategy. Superlatives improves how dealers merchandise their inventory by using real-time market data to show what makes each vehicle valuable and unique in a dealer's local market. The TradePending API serves industry partners across automotive, finance, digital retailing, and chat products, providing the ability to ingest our proprietary market data to power their own products and services.
https://tradepending.com