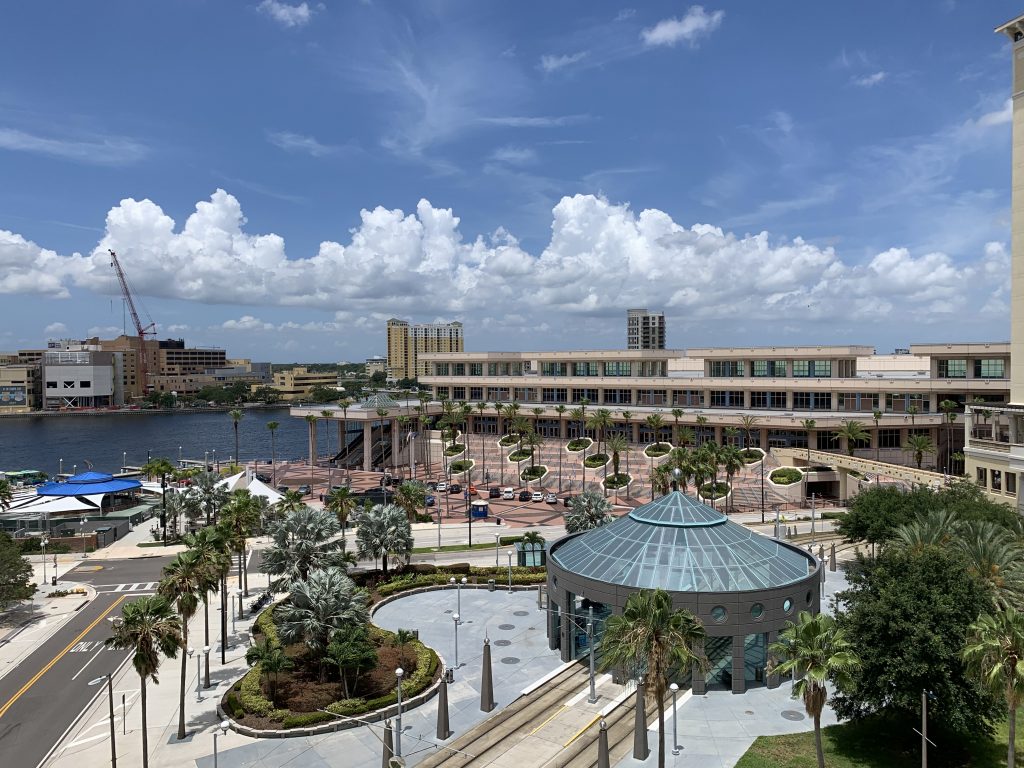 "
My boss told me that he is adjusting my pay-play this month based upon how many sessions I attend at Digital Dealer
"… (overheard as I was walking into Digital Dealer Tampa). We all know that pay-plans dictate behavior! And with that, let me dictate to you my recap of Digital Dealer Tampa 2021.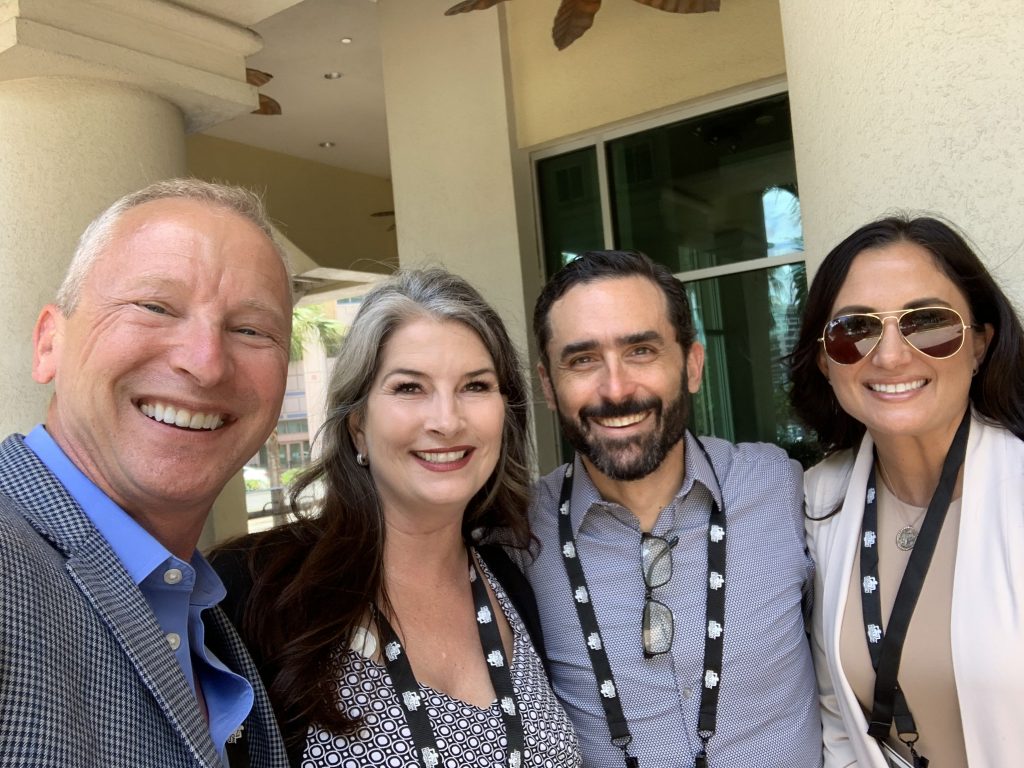 Sunshine and sunny faces with Veronica Dunford, Gary May and Ceren Isildak
Let me mask you a question ?
– Do you really want to read about "unprecedented times", "the new normal", or how Florida is a rebel state that has defied many of the pandemic mandates? Neither do I. I think all of us would agree that we are excited to get back together again at another awesome Digital Dealer Conference.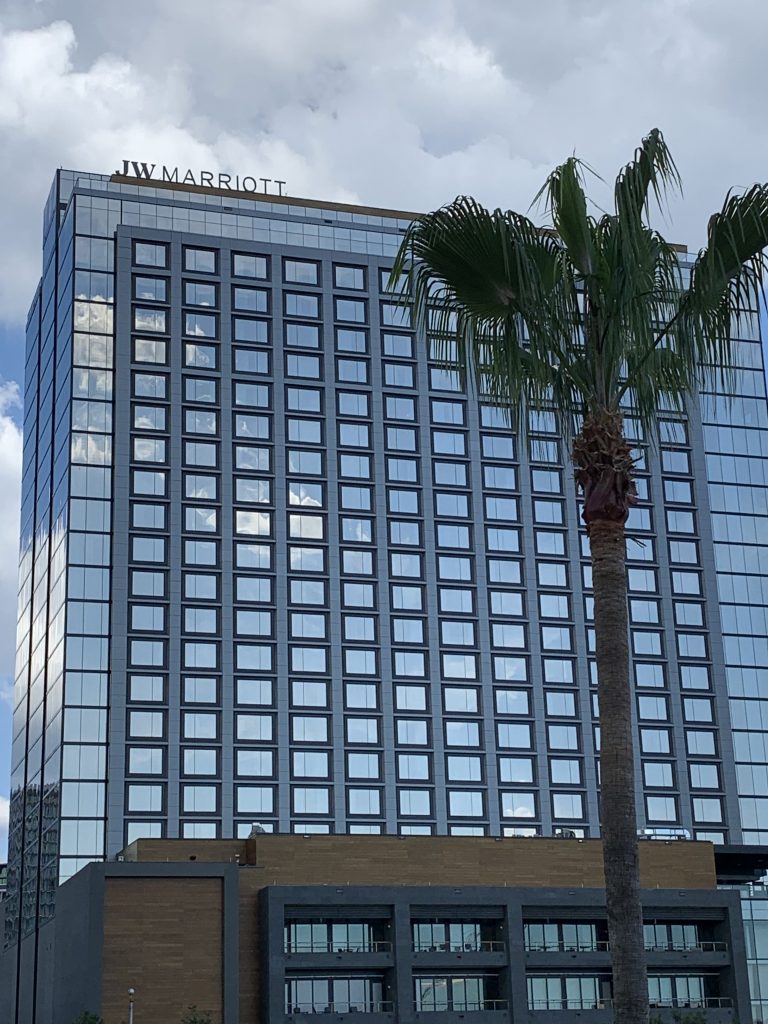 The ultra exclusive and luxurious "JW for Jeff Wyler" Marriott
Visions of Robin Leach…
I arrived Monday and checked into the prestigious "JW Marriott", not to be confused with the regular "Marriott" hotel which was across the street. Many of you do not know that Jeff Wyler has expanded into the luxury hotel business and has opened the 5-Star "JW" Marriott chain. While many of my fellow Digital Dealer attendees were across the street in the "Marriott" (just imagine the steerage class scene from the Titanic), I was practicing my presentation while sipping an Espresso and getting my nails manicured.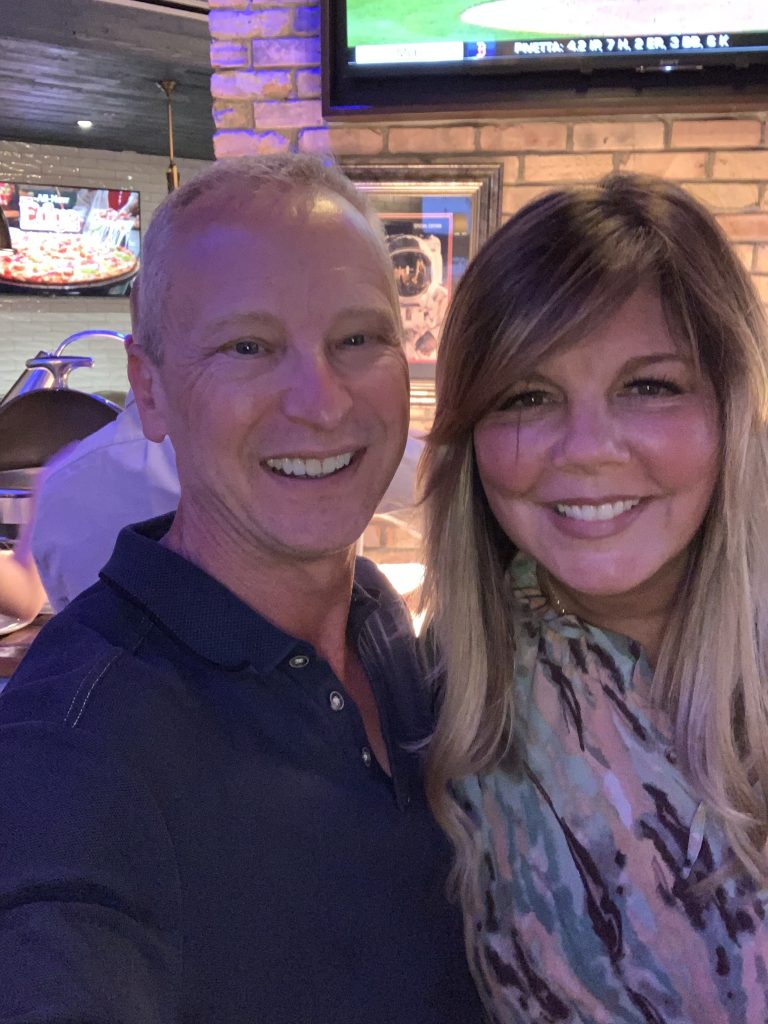 With Christy Roman at the Monday cocktail hour
Excuse me – do I remember you???
There was a vendor and speaker cocktail party sponsored by
OfferLogix
at American Social to kick off the show and I was thrilled to see many great friends after more than a year. Ceren Isildak introduced me to her new favorite drink, the Espresso Martini, and I learned that Stan Sher was born in Russia. Two invaluable lessons – now I have a drink that takes me back up after bringing me down, and if I have any problems with vote tampering or pipeline hacking, I know who to call.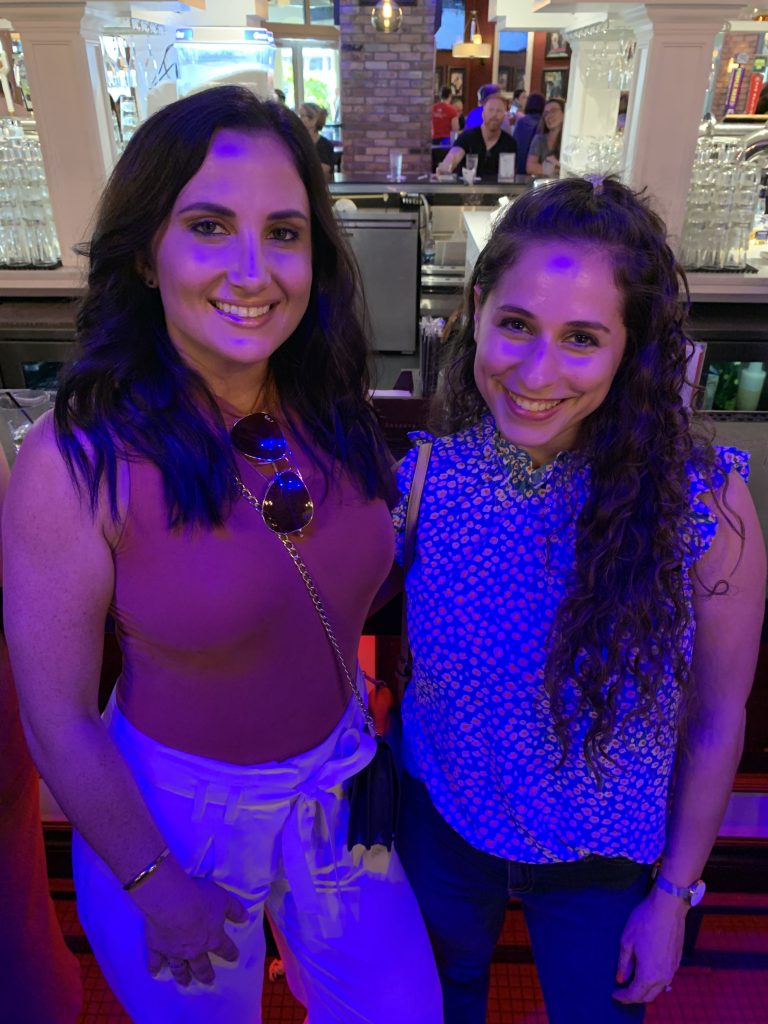 Ceren Isildak and Ilana Shabtay
Rise and Shine Cluckers!
Ok, for all of you that follow myself and Julie on social media, and have followed our journey which now includes raising chickens, YES I have seen all of the social media tags you have sent us for chicken stuff (to include the shirt with rise and shine… you know what I mean). You should also know if you follow me that I like to speak during the first session on the first day of Digital Dealer so that I can focus on reviewing the rest of the show.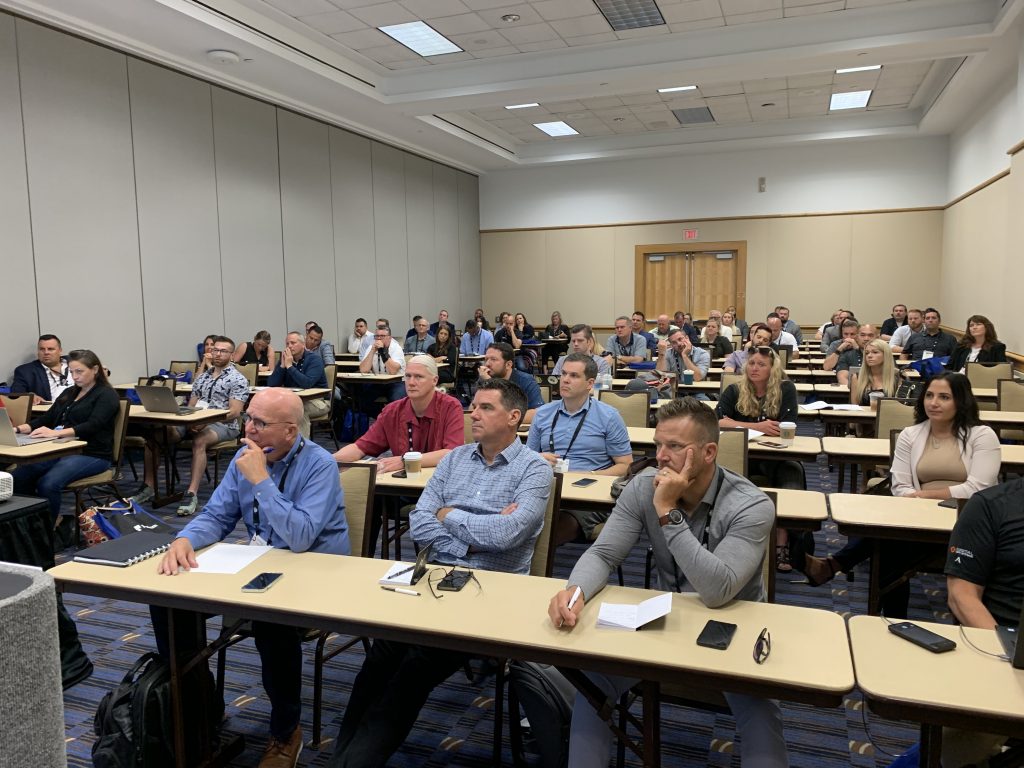 Pack'em and Stack'em…
I was blessed to have a full house, though the room was no longer "stacked". Very impressive job by Digital Dealer with folks at the entrance to each session ensuring everyone is checked in, and if your room is full, they close the doors (so there are no folks standing or sitting on the floor, etc).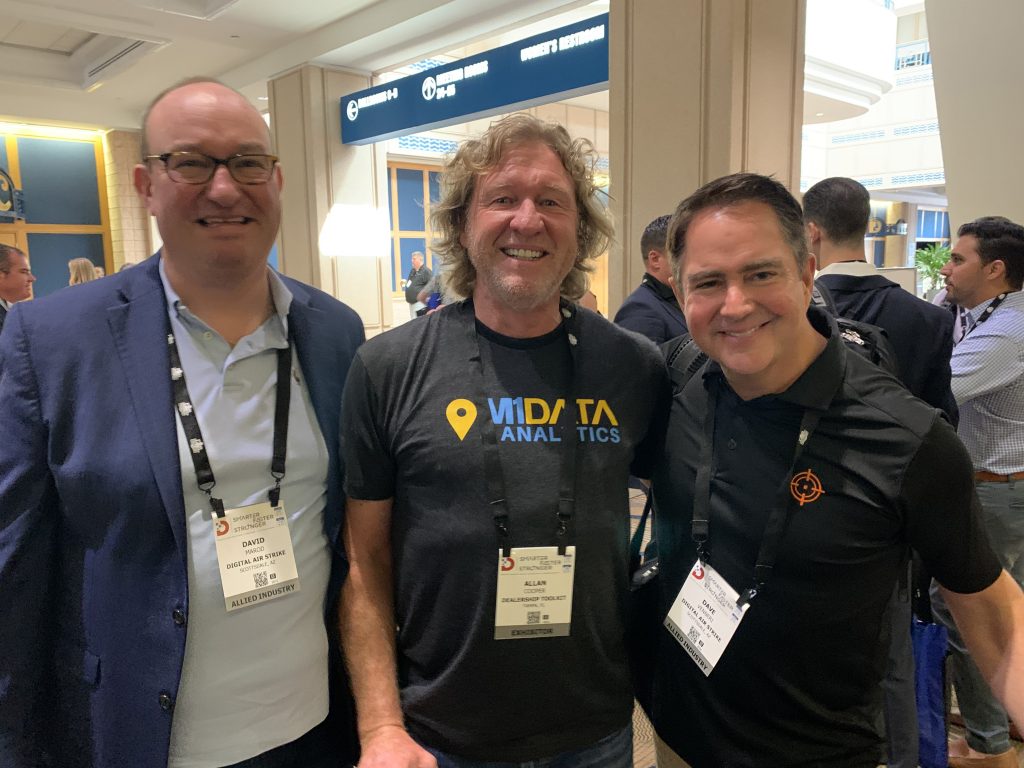 David Marod, Allan Cooper and Dave Venneri
Dated, done, dead…
That would be forms folks. And in my session "Cobra Kai – Adapt or Die – Revolutionary Changes to Your Website", I shared how we have removed forms from our dealership websites. That's right, no more forms, which we have used for over 20 years to help convert our online shoppers. If you haven't been paying attention, those form submission rates that used to be around 2.5% to 3% are now around 1.5% to 2%. Our modern day consumers are less likely to fill out forms, and are even starting to slow down on making phone calls.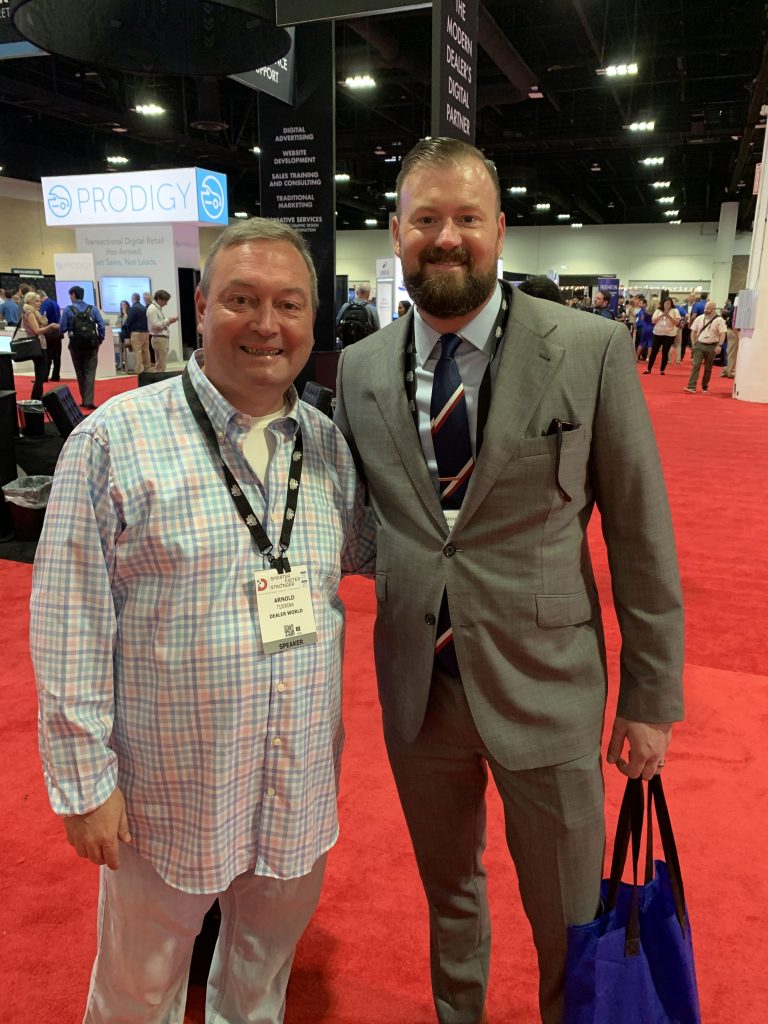 Arnold Tijerina and Josh Mitchell
Rock Star or Complacent???
Are you kidding me? The total website conversion rate of 15% that we have celebrated as "excellent" for years is not only outdated, it is ridiculous. That means 85 of every 100 visitors to your website never reaches out to you directly. I know that I was not satisfied with that level of performance, and we decided to take the bold step of removing forms and replacing that with chat.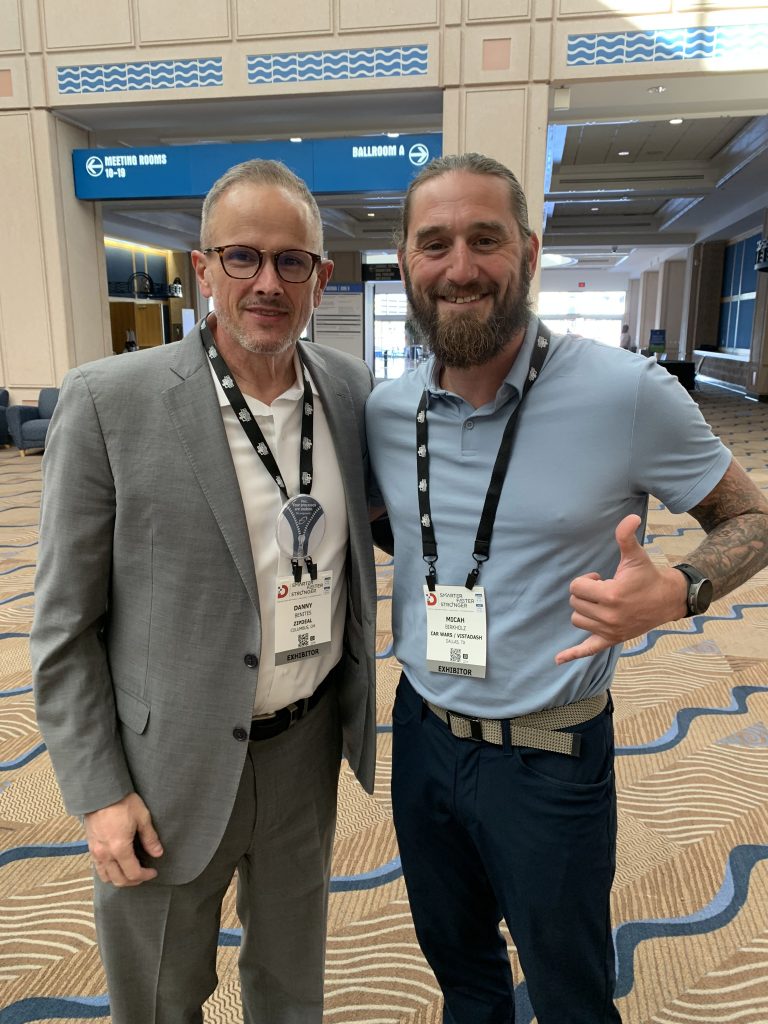 Danny Benites and Micah Birkholz
Here's the setup… We still kept traditional calls to action on our website, but instead of these pointing to a form, we repointed these to live chat. Artificial Intelligence answers the chat immediately and begins the chat. When the website visitor has a specific question or shows behavior that indicates they are an active shopper, our sales team gets a text alert on their phones. The first one to answer the chat "owns" the customer, moves to answer the question and then ask for the appointment.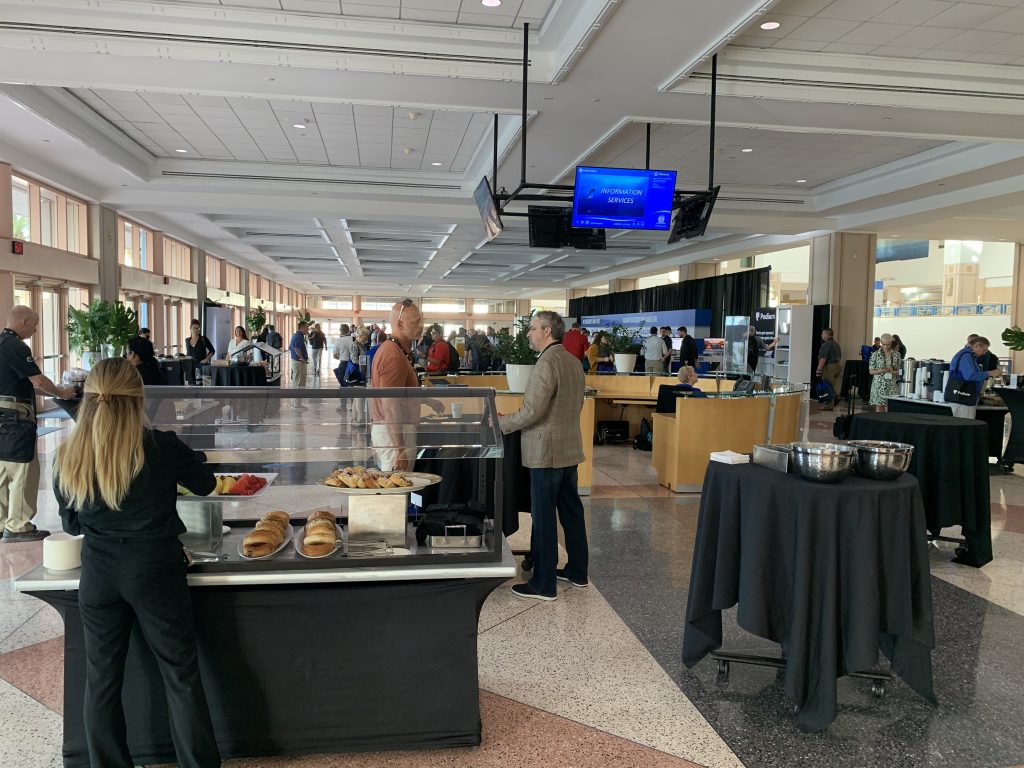 Registration and breakfast
We want results!
We were able to increase conversion by 20% which was great, but for me, is still not good enough, and we continue to work on improving this by updating and testing different text responses. However, here are the revolutionary results. The traditional dealership website form has a 25% appointment setting rate. With our new chat setup, our appointment setting rate has averaged 59%, more than double! Should this surprise you? Absolutely not. When you answer the question immediately and ask for the appointment when the shopper is in the right frame of mind, of course that will beat following up on a form and working to get back in touch with them, hours, if not days or weeks later.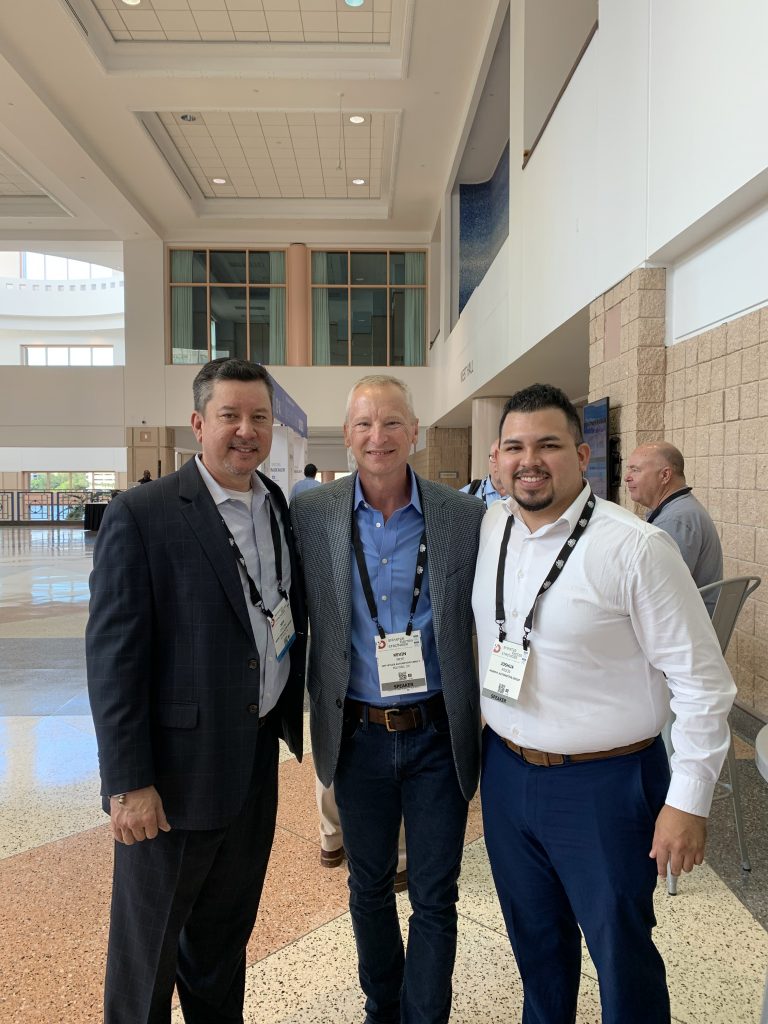 Jeff Collins and Joshua Ardon
Money money money
. Even better, our ROI on these chat opportunities tripled. Why? Shoppers are willing to pay a premium for convenience folks, I have been preaching this for years. Are you delivering convenience? And btw, I haven't even talked about how much more efficient this is. Think of those 30 – 120 day workflows you have in your CRM to work traditional form leads, that you can mostly eliminate when you directly set appointments. This approach is not only consumer facing, it is more efficient for us as dealers.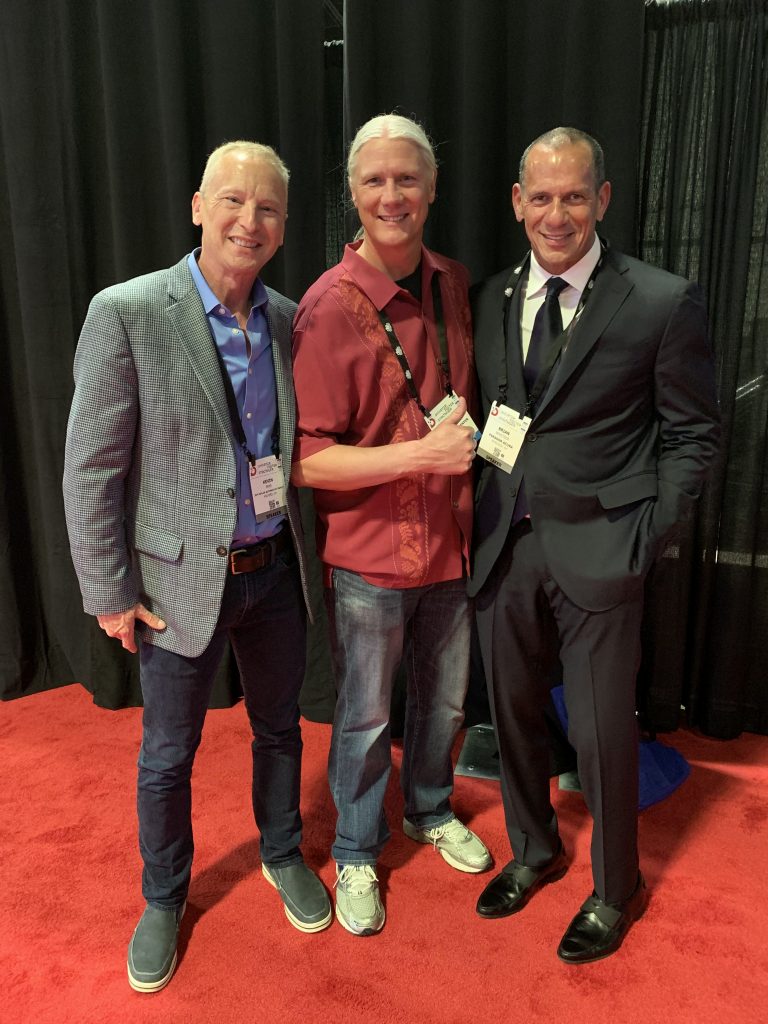 Battle of the Brians! Brian Rydell and Brian Benstock
I know what your big question is…
How WAS Digital Dealer Tampa? The answer was found as exhibit hall opened on Tuesday morning. The amount of folks I saw exceeded my expectations, and it was readily apparent that there were a LOT of dealers who were ready to leave the dealership and socialize and learn with their peers.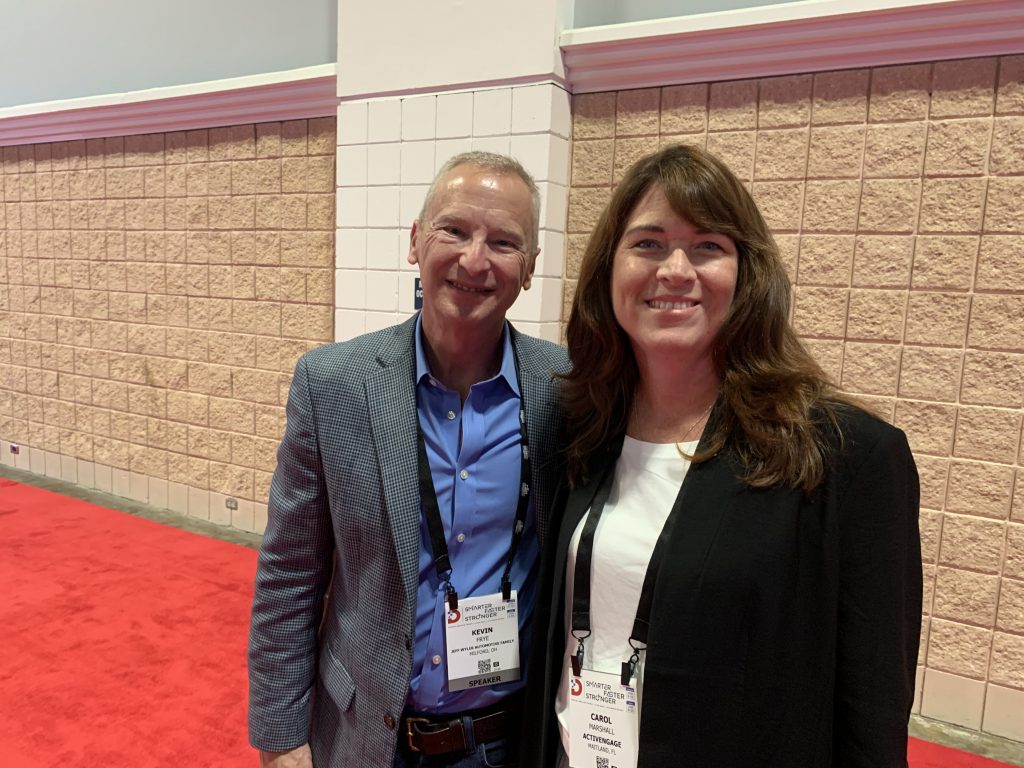 Great to talk about the modern shopper with Carol Marshall of Activengage
The amount of exhibitors was less than what I expected. Many of the big players were not present at Exhibit Hall (or should I say, they did not have booths, many had folks attending the conference but not exhibiting). Fast forward to the last day, and after speaking to some of the folks who did exhibit, they shared that while it was a smaller exhibition, they had higher quality dealers meeting with them and setting up business.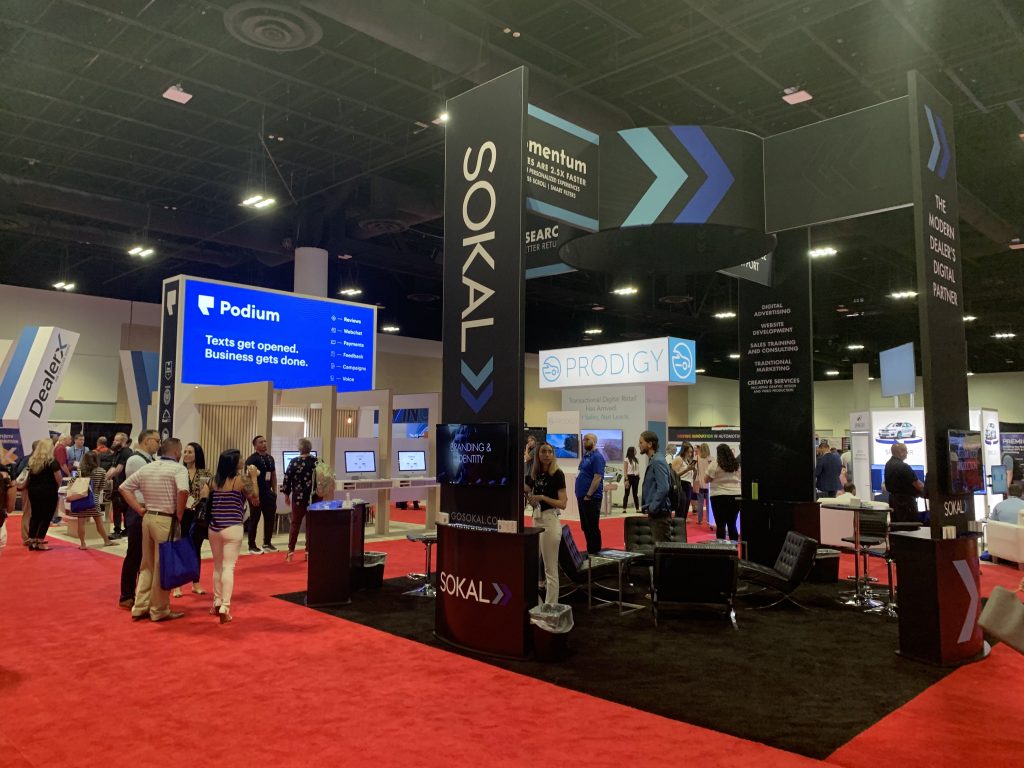 Next up was "Successfully Selling and Servicing Remotely" with Colton Ray of Walser Automotive Group. This has been a hot topic in the last 18 months where dealers look to do remote deliveries and also do pickup and dropoff with their service customers. I liked Ray's branding statement – "Our Services, Your Schedule". Per remote deliveries, they ensured that the delivery team had 5G hotspots and wireless printers, great job equipping for success.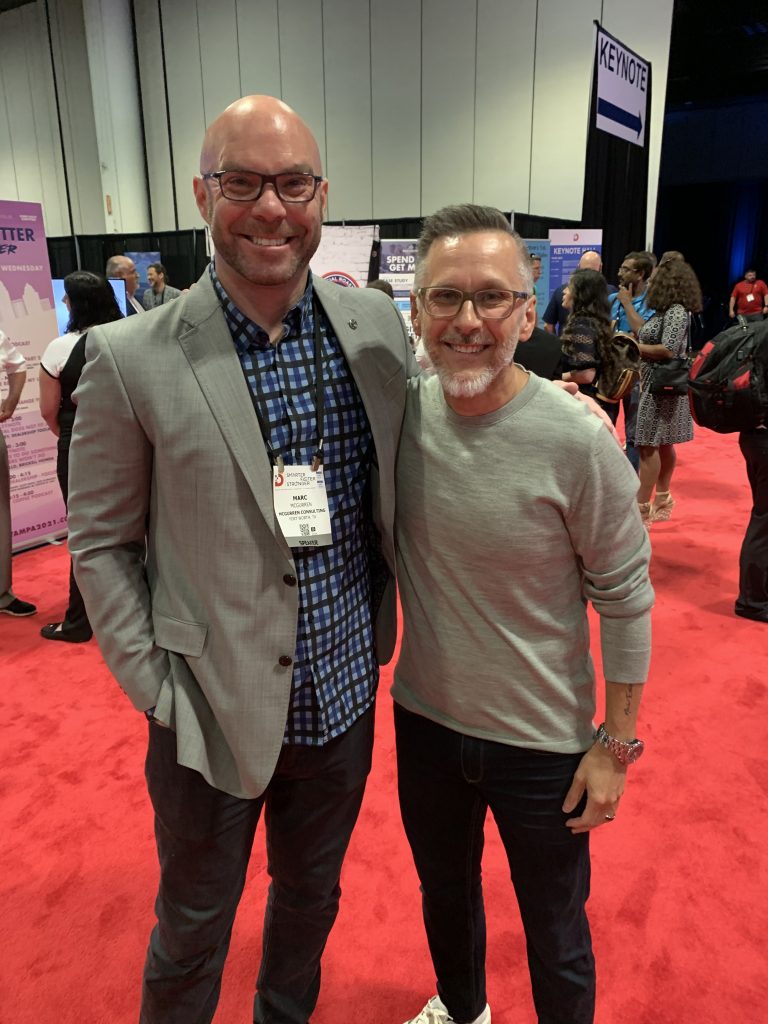 David Villa was celebrating his birthday, here with Marc McGurren
When does loyalty trump convenience…
We have been testing remote services and this definitely passes the "convenience" test, however I recently read an article where another large group stopped with remote deliveries. Why? They were delivering vehicles a long distance away to customers who would not return for service. And in today's restricted inventory situation, this is a concern that must be taken into consideration.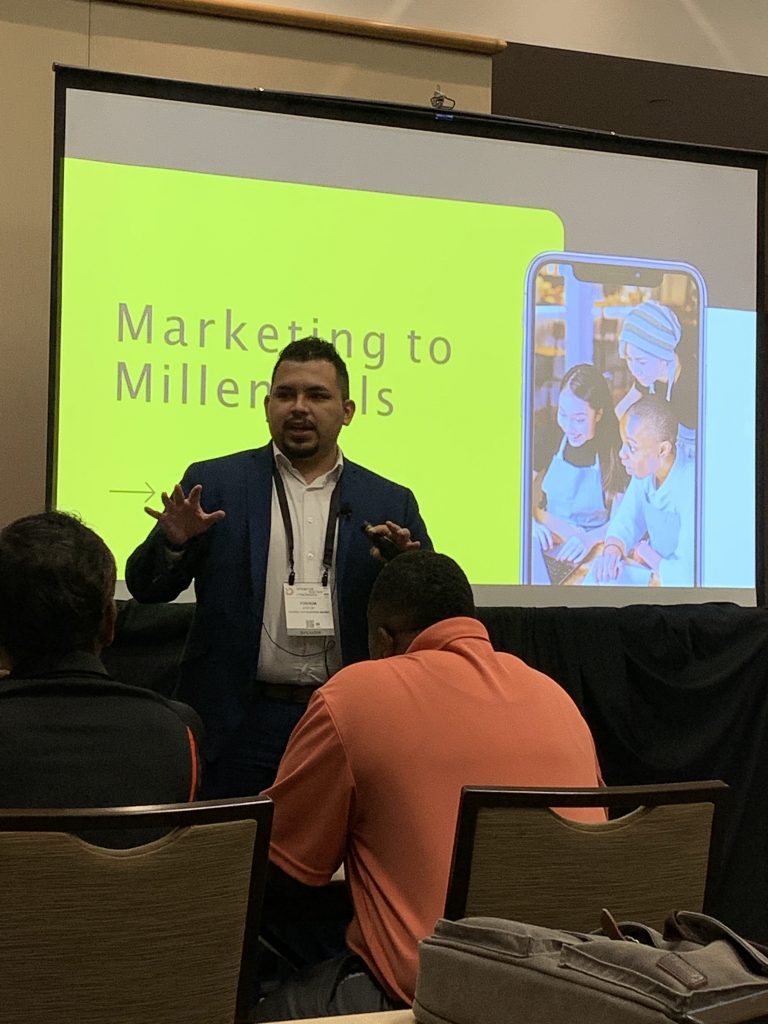 Joshua Ardon leads his first session at Digital Dealer
Push Your Boundaries, Make Yourself Uncomfortable…
I would like to introduce a rising talent within automotive, Joshua Ardon, who is the Marketing Manager of the Murphy Automotive Group. This was Joshua's first time speaking (I was encouraging him strongly), and during my morning session, I asked the fellow dealers to support Joshua that afternoon. Joshua had a PACKED house (love my dealer friends) and Joshua shared some great insight on how to market to millennials. He focused on how to create brand zealotry, and shared some interesting insight on the length of the videos you create based upon the social platform you are using them on. Great job Joshua, we are always looking to support new talent in automotive. And thank you Digital Dealer, you lead the way with featuring dealer speakers at your shows.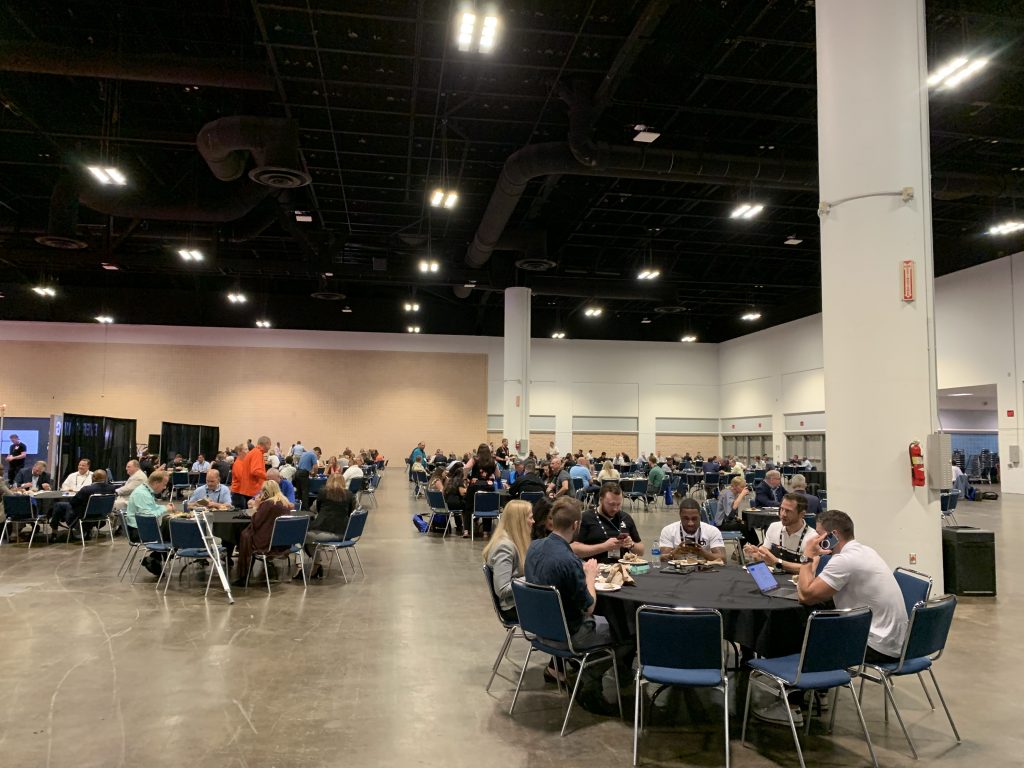 Time to eat and/or meet
Keystone or Keynote, which do you prefer?
Do you have any idea of how difficult it is to give a Keynote during a conference like Digital Dealer? HUGE room, people coming and going, it is difficult to engage folks in this environment. I was highly impressed with both the Tuesday and Wednesday keynotes.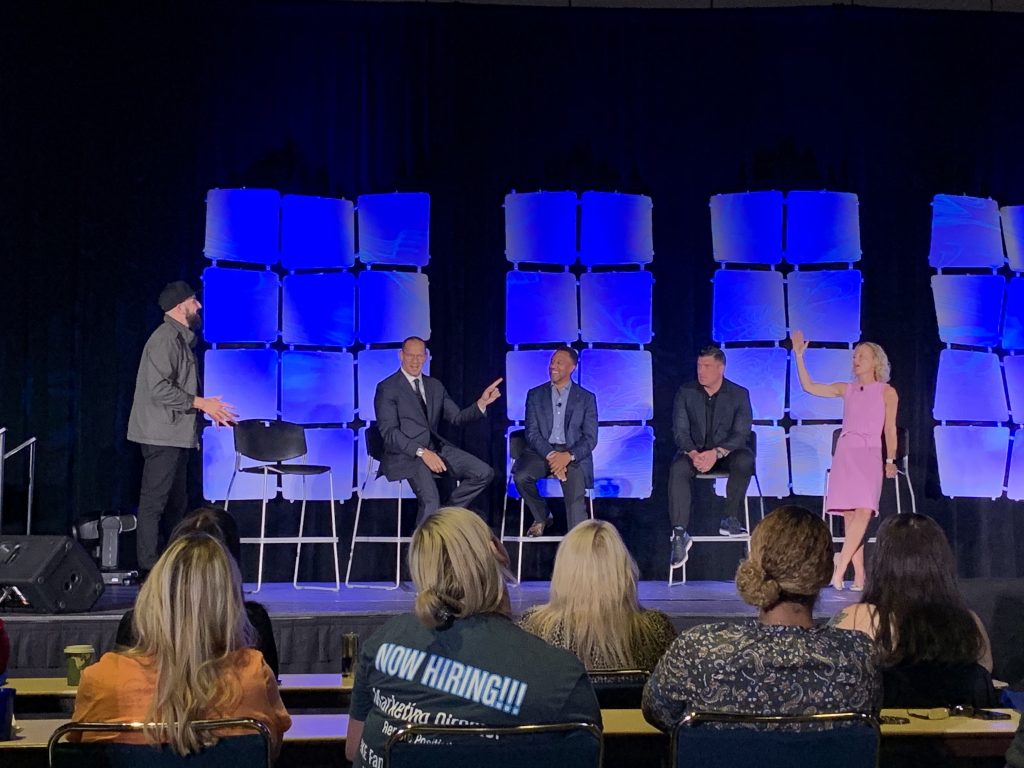 Paul Daly leads keynote with Brian Benstock, Damon Lester, Brian Kramer, and Liza Borches
Rising star Paul Daly lead Tuesday's keynote "Don't Call it a Comeback", with Brian Benstock, Damon Lester, Liza Borches, and Brian Kramer. This high-energy session gave us direct insight from our peers into how they handled some of the adversity of the past year, and more important, the lessons learned. Congrats to Brian Benstock of Paragon Honda for setting new national retail records with Honda, and Brian shared a great nugget of wisdom during this keynote. The time to fix your roof is when the sun is shining (which is now folks). What are you going to do when things switch from low days of supply to high days of supply, will you still be razor sharp with your selling processes? And I loved how Liza Borches shared how our emotions are our strength when managing difficult times in automotive. In the middle of difficulty you will always find an opportunity.
Ran into Paul Caldwell at Exhibit Hall
Whew, time for one of those Espresso Martinis…
Wrapped up day one with some great networking and cocktails, and a great dinner with friends and vendor partners.
Look who I ran into at the EXCLUSIVE JW Marriott? Elise Kephart and Bobbie Herron
Stay out of my business! Wait, no, stay IN my business!
Day 2 started with George Nenni and "Winning with Google My Business". The number one doorway into your website is your Google My Business page. Don't believe me? Put a UTM tag on your dealership website link on your GMB page and you will quickly see that this is your leading source of referral traffic. George has been a leader in this area on how to optimize your GMB page, and how to keep up to date with the ongoing changes Google continues to make. I would strongly encourage you to purchase George's book "
A Car Dealer's Guide to Google My Business
" on Amazon for step by step instructions.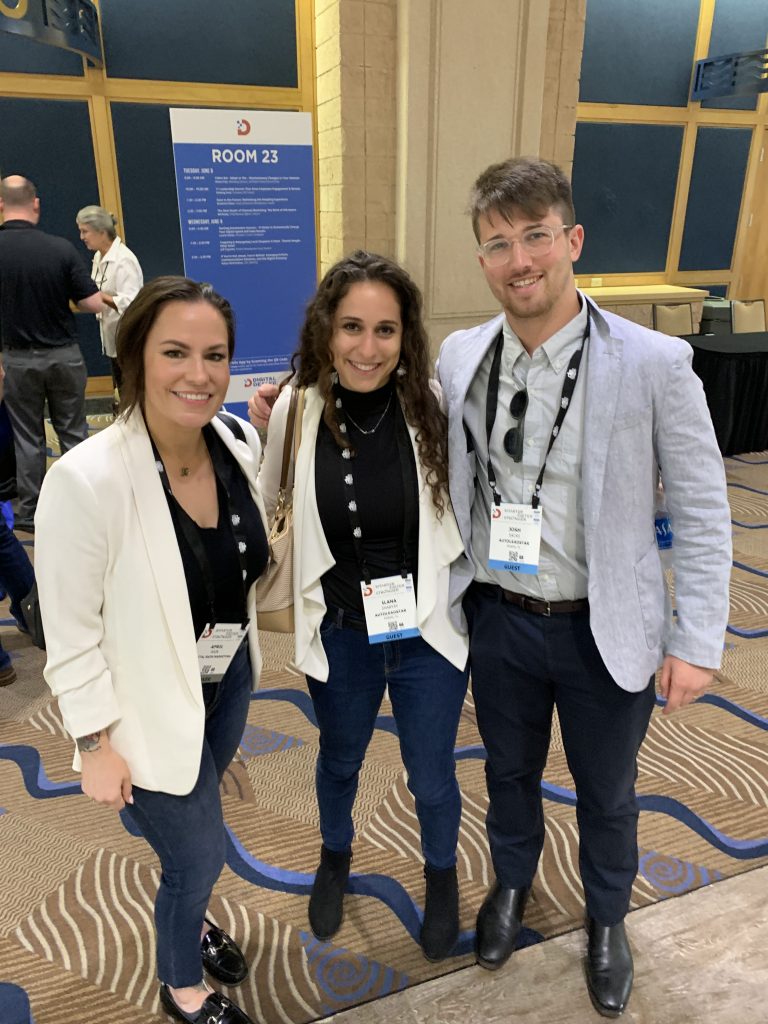 April Rain, Ilana Shabtay and Josh Sacks
And the winner is…
My favorite session was "What Inventory Problem? Beating Carvana at Their Own Game" with Brian Kramer, General Manager of Toyota of Naples. This was the first session in three years where I listened to someone who is taking Carvana seriously, and not belittling them or focusing on how they have been losing money. Brian shared a detailed analysis on what Carvana is doing to acquire inventory (one hint, the focus is no longer on auctions, it is buying directly from our customers). We need to beat them at sourcing vehicles as Carvana is not going away. I will be closely reviewing his deck again. And Brian, you are correct, Carvana and CarMax have been getting us to do things we likely should have been doing all along. If you want to lead, you must be humble, and Brian is setting that example – well done!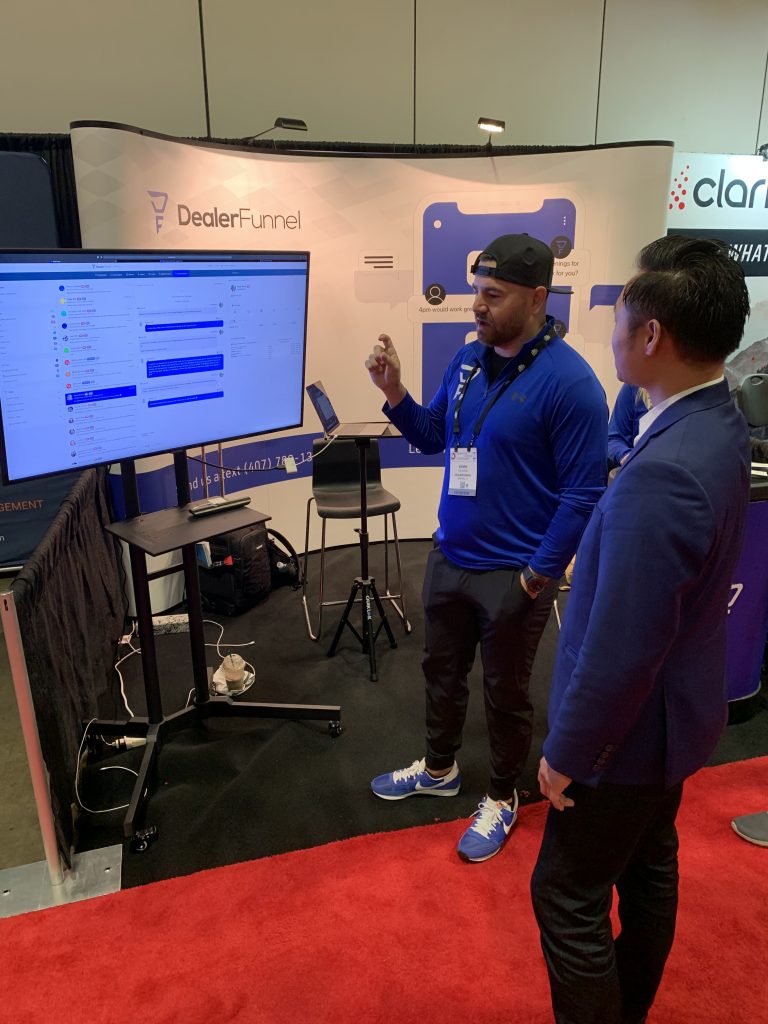 Kenny Calhoun demos Dealer Funnel with Nick Cybela
Back to Exhibit Hall where two new solutions caught my attention. If you have been running Facebook Events, they are a great tool to generate sales and a good ROI (think "modern day supersale", but on Facebook). Facebook allows you to communicate with the folks via Facebook Messenger for one week. With
Dealer Funnel
, you can move these leads to their platform, and work them via Facebook Messenger and also by text as far out as 100 days. As I see it, this provides two options. You can either take the lead lists you generate with your Facebook campaigns and work them longer and more efficiently with Dealer Funnel, and/or you can run your Facebook event or campaign directly through them.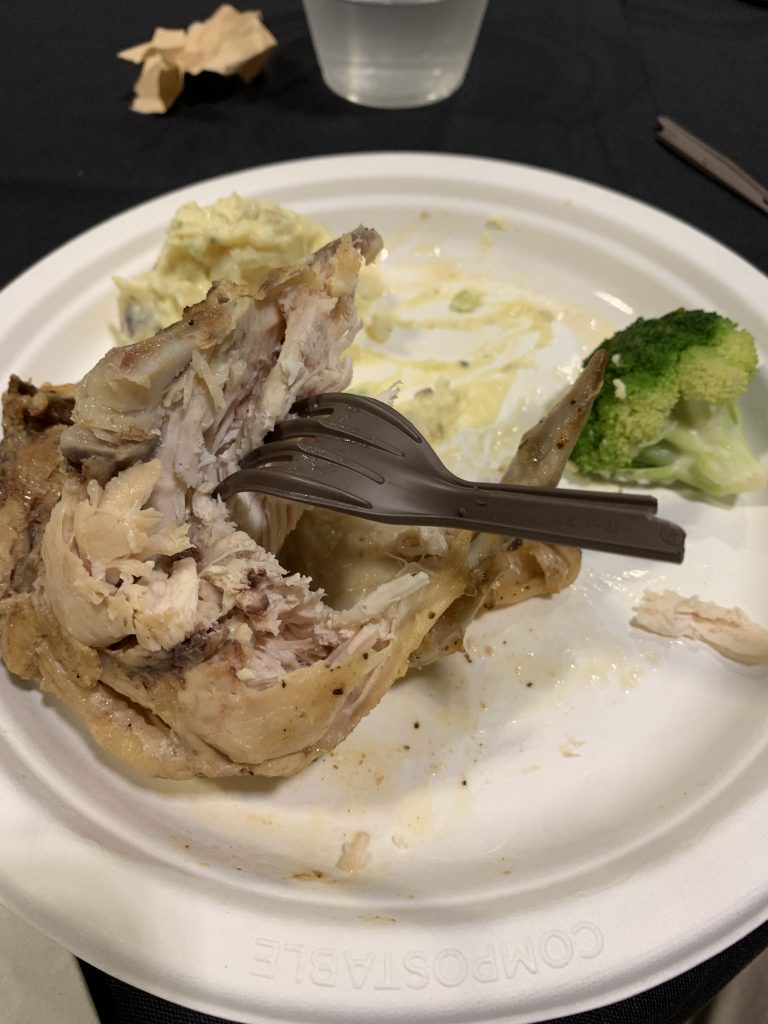 What the fork is going on?
After being pampered at the luxurious JW Marriott, I was deeply shocked, nay, offended, to endure the traumatic experience of my plastic fork breaking while trying to enjoy a delicious lunch at Digital Dealer. Fortunately, April Rain was next to me with a spare, no, about 5 spares, as she had broken her fork the day before, and again while with me. First there were the paper straws, now this. Call me triggered, victimized and traumatized, but this was my only complaint about Digital Dealer Tampa 2021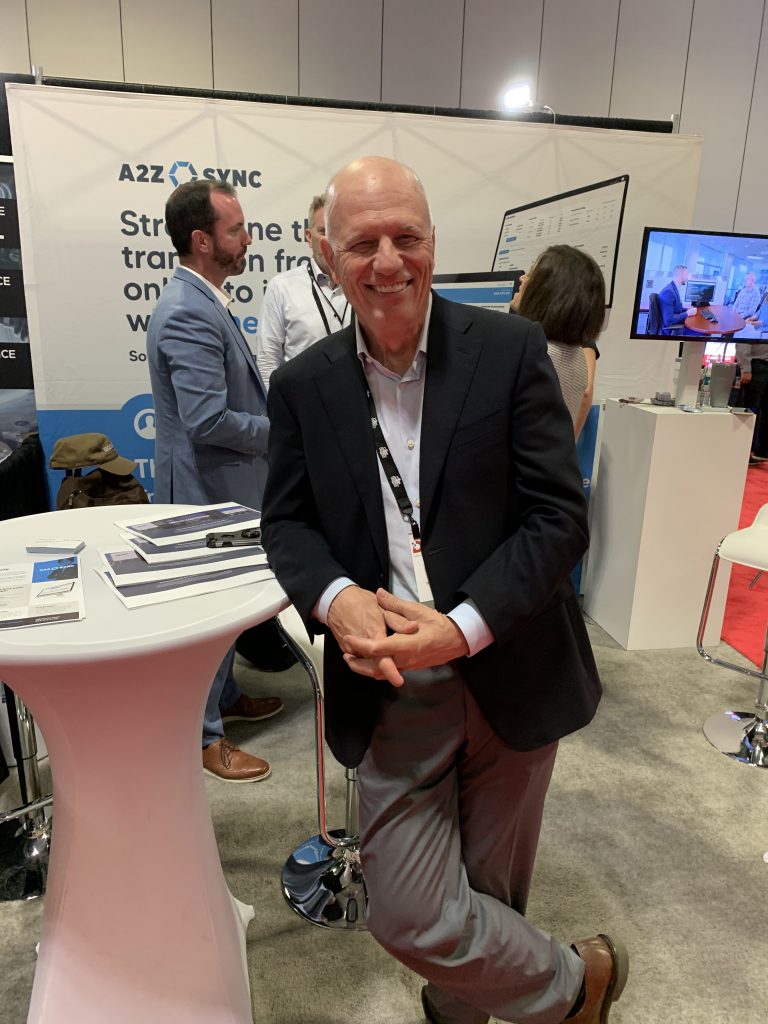 Chip Perry returns with A2Z Sync
You CAN teach an old dog new tricks
(love you Chip, lol). Chip Perry, one of our early eCommerce innovators continues to partner with leading solutions, and in this case, that is
A2Z Sync
. Their tools allows you to streamline your sales process to have only one person handling the sale and F&I. When we look at convenience and consumer-facing, this is a win-win with shoppers who want to work with one person and minimize their time at the dealership. A2Z Sync provides the tools and training to make that happen at your dealership.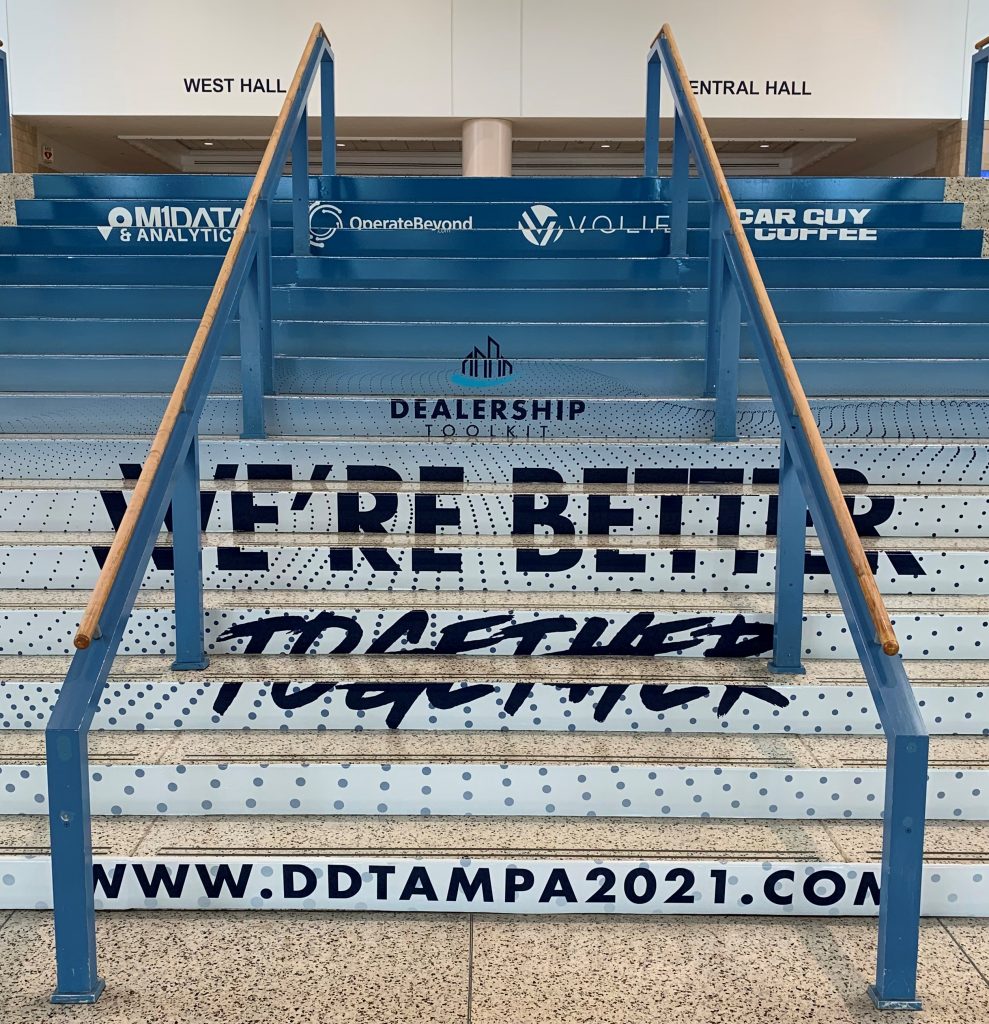 Of course the counter-side to that is we as dealers want to maximize profitability, and that traditionally means putting a different face in front of the shopper when you go to round two of selling with F&I products. Outside of the current unique market with restricted inventory, F&I has been the primary profit center for new car sales for many years and this equates to a lot of resistance to the "one person" strategy.
While I like the consumer facing elements of this approach, I not only have concerns about profitability, I also have concerns about having the F&I presentation handled optimally. F&I is a complex area with lots of regulation, and getting consistency in presenting the full menu, every time, and asking for everything, requires a LOT of training and we are doing it very well. I am watching this closely Chip!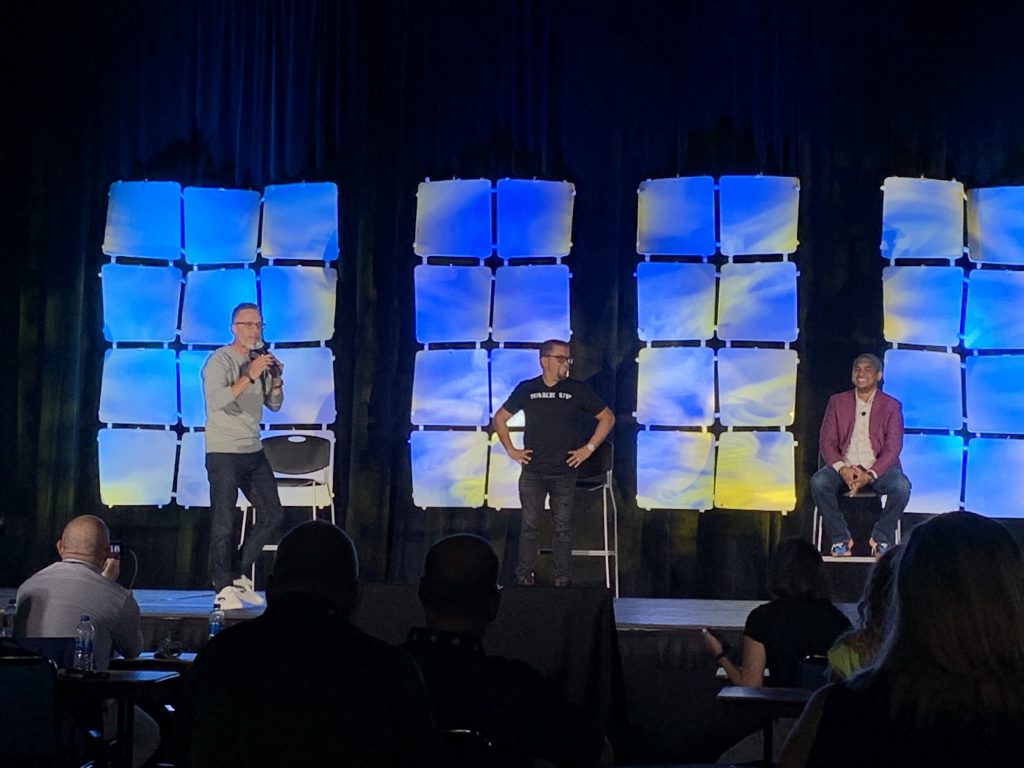 David Villa leads a high powered keynote with Alex Flores and Glenn Lundy
Honk your HORNS!
Wednesday's keynote took high energy to a new level. David Villa hosted a panel "The Time for Transformation is Now: A Revival of the American Dealership", with Alex Flores and Glenn Lundy. There was no way to not be engaged with this keynote as each speaker had 2 minutes to speak, at which time a loud horn went off, and the next one started for 2 minutes, and this rotation kept on through the entire keynote. Glenn shared his LEADD principle, which stands for listen, encourage, advise, develop, daily. I'm not sure whether I was at church or a high-energy sales motivation meeting as the passion shared by each speaker was off the charts and each of us was pushed to not only excel with our own performance, but to also uplift, encourage, and lead others around us to do the same.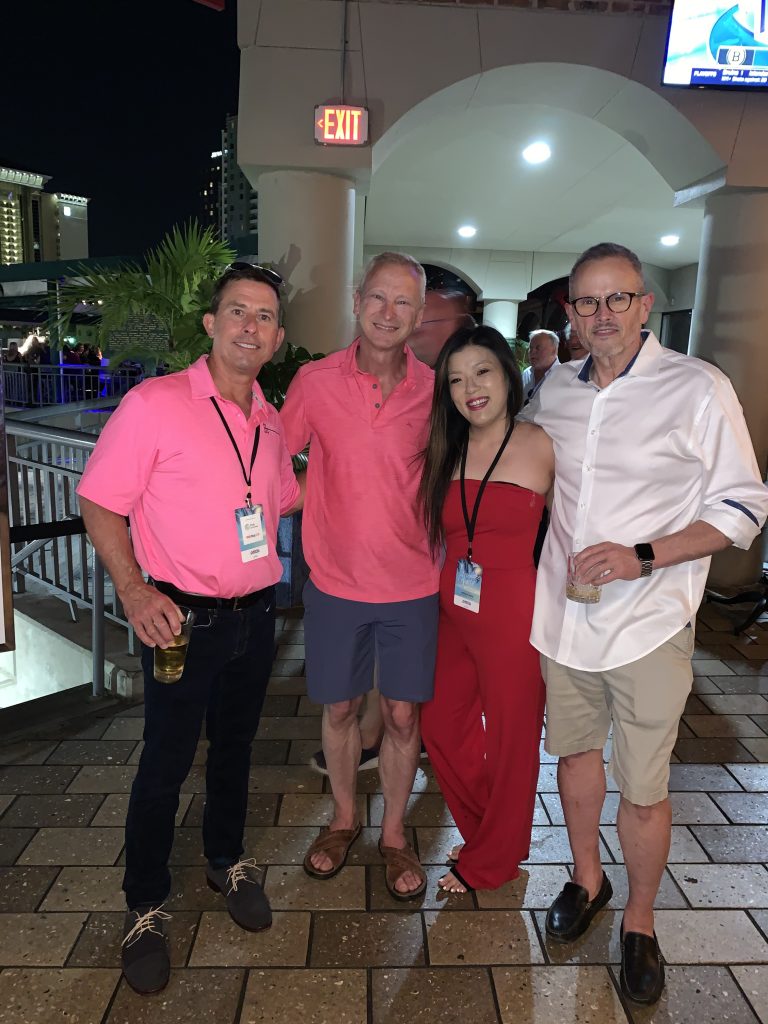 George Nenni, Elise Kephart and Danny Benites
Talk about pent-up demand…
The Digital Dealer party at American Social was a blast. Everywhere I turned I saw more friends that I had not seen for over a year, and we enjoyed catching up while trying a "Peanut Butter Old Fashioned". Actually pretty tasty, and it was even topped with a one inch square peanut butter sandwich on top. Almost as exquisite as the JW Marriott.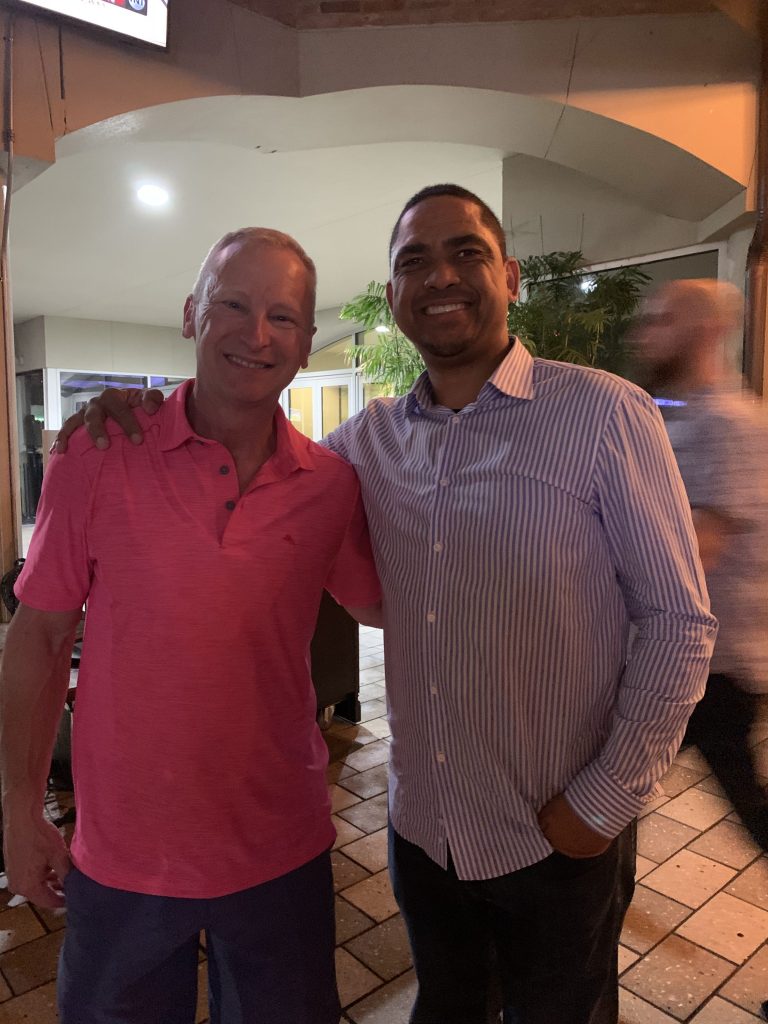 With Glenn Lundy
Word on the street…
This is too easy. What was on everyone's mind? INVENTORY – did you even have to ask? Anywhere, everywhere, that was what was being discussed. I enjoyed hearing some of the crazy amounts dealers were paying for used cars (think $5800 more than MSRP for a truck that was almost 2 years old, and they still made money selling it). What can you learn from this from the 20,000 foot level?
The auto industry continues to bring surprises! If you thought the Internet brought the biggest challenges automotive would see, what do you think the future holds outside of the recent pandemic, digital retailing, and today's inventory issues. What about OEM's that are talking about 100% EV sales after 2030 when our total EV sales now are less than 3% of all sales? What is your vehicle acquisition strategy for the future, as the status quo is not going to cut it? Do you really think we won't have another pandemic type situation in upcoming months or years? Dynamic dealers win, static dealers die. If you are not always adapting to overcome, you will be overtaken.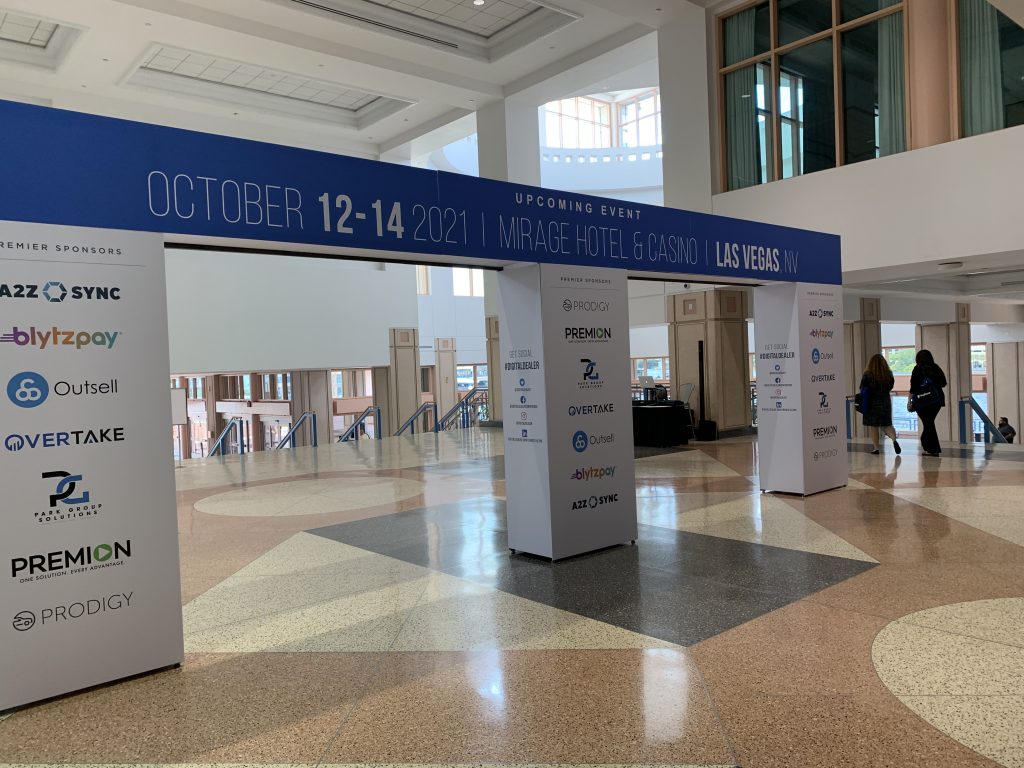 Digital Dealer Vegas Oct 12th-14th – see you there!
Always be humble and kind
. Love that song by Tim McGraw by the way, that's one I would aspire to have played at my funeral one day. This also applies to how I believe we should approach our business. Don't ever think you know everything – you don't. Be humble, and you can learn from others and from a fast-moving market and then make changes to continue to lead. And being kind? We need more of that these days, and that means uniting, not dividing. I love this industry because we are resilient, we unite to overcome challenges every year, and some of the greatest friends I have in this industry are both humble and kind. Love you all, look forward to seeing you at
Digital Dealer
in Vegas – and yes, I promise Julie will be with me.