Feb 17, 2021
14
13
First Name

Jake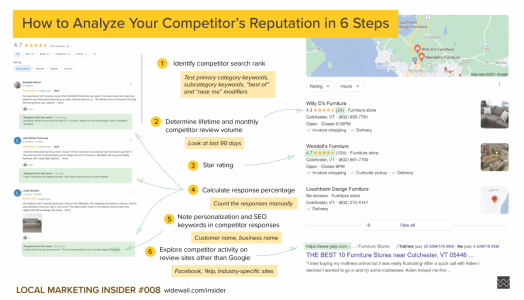 I was wondering about this question - how
good
does your online reputation really need to be? How do you know how much time and money to put into a strategy for a specific industry and location? The answer - look to the competition.
Putting customer experience aside for the moment, an effective reputation management strategy aims to bring in more customers by showing up at the top of local search results for relevant, high intent keywords.
As a result, you don't
necessarily
need a 5.0 and 1,000 reviews. You need to outperform the local competition.
Understanding the landscape in your industry/city will give you a baseline level of performance to compare your reputation against. With this, you can set appropriate goals for your business.
Competitor Reputation Analysis Exercise
Starting with these seven questions, collect reputation information on relevant local competitors.
Tip: Collect data using an incognito browser window to remove search history that may bias the results.
1. Identify competitor search rank
Where does the competition show up in the Map Pack for your target product/service keyword and geo?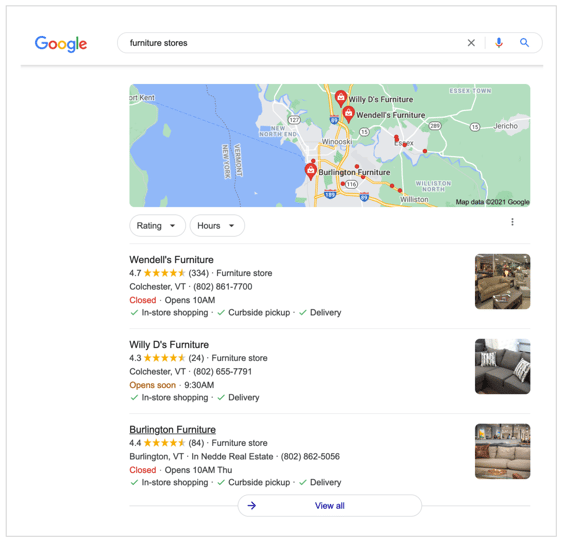 1. Start with your business's primary category and then test for ranking differences based on subcategories and related keywords.
Find your primary category at business.google.com: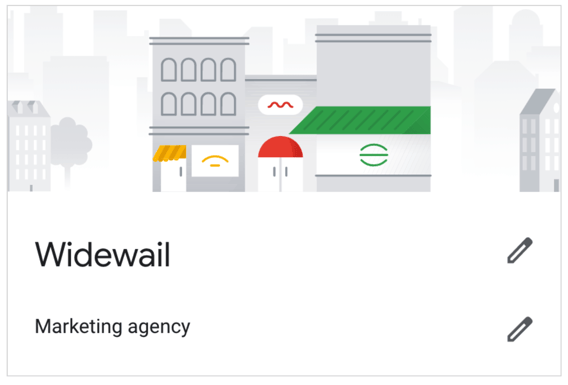 Find your subcategories: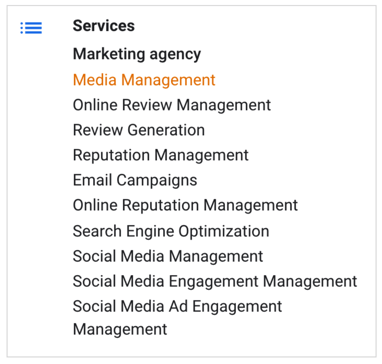 2. Record your competitor's rank for each of these terms compared to your business.
3. Add "near me" and "best of" modifiers to core category searches and note any differences.
Go deeper: Pick test spots at four different points in the area surrounding your store to test for differences.
You can use
Local Falcon
to view how your rankings vary by location.
Also within your Google My Business account (business.google.com) under "Insights" you can see "Direction requests".
Look to see if you have strong competition in underperforming regions.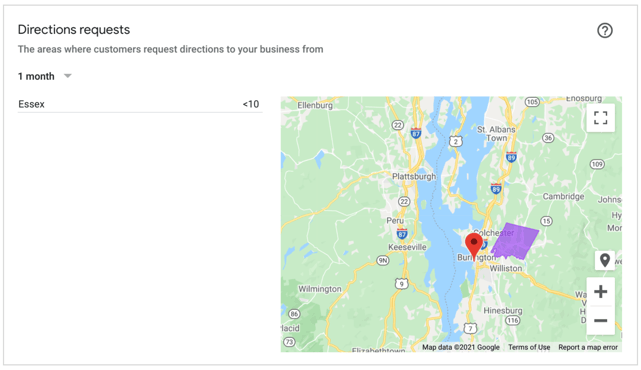 2. Determine lifetime and monthly competitor review volume
How many reviews (volume) and how often your competitors get reviews (frequency) are influential on local search rankings.
Take note of how many reviews each competitor has amassed in its lifetime (number displayed on GMB) and over the prior three months. To collect the latter you will need to count manually.
Make sure to sort by "Newest", as Google defaults to sorting by "Most relevant".

3. Find star rating
This one is pretty self-explanatory, make note of their star rating.

4. Calculate response percentage
What percentage of reviews are they responding to? It will make sense to collect this info while counting review volume for the past 90 days.
As a benchmark, we recommend a 100% response rate.
5. Do competitor review responses use personalization, SEO keywords?
If responding, are they using personalization and SEO keywords in their responses? If yes, your competitor likely has trained staff or a vendor managing its review response.
In this context:
Personalization = customer name, references to specific content in review
SEO keywords = business name, location, products/services
Note this as a "yes" or "no".
6. Explore competitor activity on review sites other than Google
The last step, complete a brand search for each of your selected competitors. Make note of which sites show up and the competitor's activity on each. Use this information to identify if you are underperforming on any of these sites.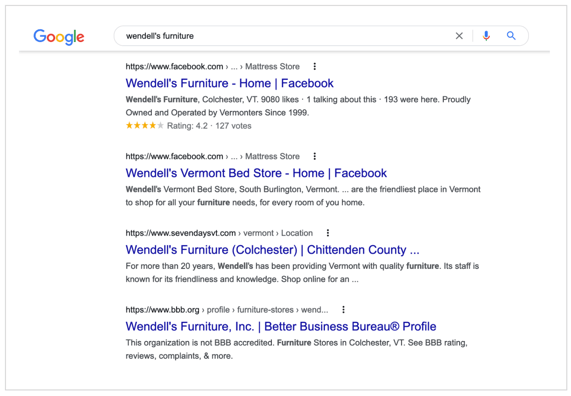 Recommendation: In 2020, 64% of all reviews managed by our team were on Google. Generally, Google should be your primary review target because of the positive impact search rankings can have on your business. But, if you're lagging way behind a specific competitor on another site and that property is getting good exposure on your target searches, consider moving some resources to improve your reputation/activity level on that site.
To sum it up: 6 steps to analyze competitor reputation
Competitor rankings by primary category keyword

Rankings by subcategory and related keywords
"Near me" and "best of" searches

Lifetime review volume

Review volume last 3 months

Rating
Percentage of reviews responded to (last 3 months)
Personalization and SEO in responses
Competitor activity on other review sites
When complete, you will have a well-rounded view of your competitor's reputation and reputation strategy, establishing a solid baseline to helping determine what reputation presence you need to compete in local search for your specific location and industry.
Thanks for reading Local Marketing Insider. If you think answering the question "how good does my business's reputation need to be" will be helpful, start by grabbing this competitor analysis spreadsheet. I've created a template from the information explained above to give you a head start.





If you enjoyed this issue please share it with friends or colleagues.

See you in 2 weeks - Jake, Marketing @Widewail