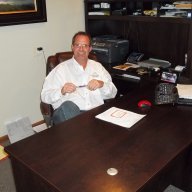 Mar 17, 2014
362
219
Awards

1
First Name

Clint
Hey
@Ron Wynn
. Good to see you asking around and trying to navigate your way through your new venture! I am going to dig in here and see if I can't give you a hand.
You are in Atlanta. Georgia has the strongest Independent Auto Dealer's Association in the country. START THERE! I so badly wish Nebraska had an association like what you have at your disposal. We are trying! You are surrounded by strong and successful dealers, and most that I know are willing to help.
You don't have enough inventory. You sold 40 cars last year. You operated on (nearly) a 30 day turn. If you are a beginner that has no experience in retail automotive, and you are on anything under a 60 day turn...you don't have enough inventory. 10 cars in inventory MINIMUM. As someone else said, 4 is a hobby and it looks like a hobby to anyone visiting your website.
Get on Facebook Marketplace. If you aren't getting any traction there then you have the wrong inventory. You need to be selling the stuff that does well on Facebook. Good rule of thumb....CHEAP CARS! Not garbage cars, cheap cars. Anything you can retail under $5,000...maybe $7,000 depending upon your 1 mile radius market. I know, those are the hardest cars to buy! Yes they are, and thank God you only need 10 per month! You can do it.
You sold 40. Where did those sold customers come from? Where did they find you?
You can cut your DMS bill in half by going to Frazer. I know, it's $50/mo savings. It is still money.
Do you really need Carfax? I don't know.
Absolutely do not dig a deeper hole than you have already. Seriously, don't do it. Figure out how to sell 120/year with your current set up before you throw a nickel at a higher rent factor or constructing your own deal. Grow to the point that facility or location is holding you back. That point is not now.
Just a few thoughts. Call the GIADA right away and get signed up. They will point you toward a peer that is close to you and you can go camp out with someone for a few days!