Apr 30, 2009
309
131
43
First Name

Drew
Has anyone seen or looked at the state bill running through CA right now? It is AB2107, and is sponsored by the CNCDA (California New Car Dealers Association)... looks to have full bi-partisan support - and will most likely be law come Jan 1.
Full breakdown here --
Fact Sheet
The thing that caught my eye....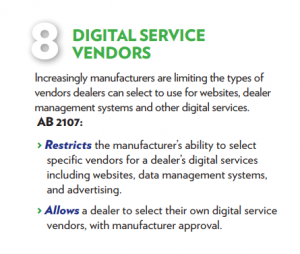 Any comments or thoughts? CA Dealers... would love to hear what you think.