Intro
Hey guys! Haven't jumped on the forums in a LONG time but I'm hoping it's ok if I revive this account

I'm Billy Bambao, car guy, dad, founder of a marketing studio out of Toronto, Canada that does a lot of work with some of the country's top auto dealers.
I feel we've really cracked the code on what it takes to hack rising costs on FB/IG and run highly profitable, impactful Facebook/Instagram campaigns.
And this week I was super inspired seeing all the great discussion in this forum and wanted to share exactly what we've found to work, how we do it, how we measure it in hopes that it'll create some "a-ha" moments for you (and benefits to reap).
Quick examples of the impact our marketing methodologies have had:
Impacting $168K of gross from deliveries with just $16K ad spend (over 8 months) *yep, not that much monthly ad spend
Impacting $135K of gross with just $13K ad spend (over 8 months) *same here!
Grew an eCommerce brand from $17K/mo in sales to $100K/mo+
Drove $900K in revenue for an eCommerce brand from $41K in ad spend
I included some eCommerce examples here because we've seen that no matter the industry, the platform or the business... success always boils down to
marketing well
(positioning, thumb-stopping creative, ad copy, high value offerings); and that's what everything here is based on.
Yes of course there's knowing technical stuff, optimizing campaigns, CBOs and ABOs, understanding how Facebook's algorithm works, etc etc.. but IMO that tech-driven stuff is useless unless the right marketing fuels it.
So, before I jump into it... something quick to share.
Important disclaimer
: The stuff here has worked well with dealerships who have doubled down on their brand and what makes them different. They don't JUST talk about OEM Incentives, APRs, 0% Financing, Lowest price, Monthly offers etc. So, much of this may very well not work for you if that's what works for you. Or perhaps some bits will, and some won't. Test what makes sense for you...
particularly if you've tried FB/IG before with paid ads and were either unsure that it worked OR didn't see much success out of it.
@Jeff Kershner
thanks for putting this great community together; SO much great value here for dealers to eat up.
@John.H
shout out to you as well, love the stuff you post here!
So let's jump into it,
Would love to start off with the one thing that has arguably has had the biggest impact on results (and thus, I'm going to spend the most time on it):
1. Copy, Creative, Positioning & Storytelling for Your Dealership on Instagram/Facebook
Why this is so important to include in your ad copy/creative:
People buy based on EMOTION, and justify buying using LOGIC (if you doubt this, just Google around)

Yet, have a peek around at dealership ads using the Facebook Ads Library ... i'll bet most of your competitors run ads that are logic + numbers based.

Facebook's entire algorithm is focused on meaningful action & engagement. And so,

Boring ads = more expensive... higher CPCs, CPMs,
Well written, Engaging ads = cheaper reach... lower CPCs, CPMs, favoured in the auctions

Once you've nailed this down, it becomes 10X easier to produce ads with a unique voice
It will make clear to buyers why they should buy from YOU
Your ads will build trust with people well before they contact you
Your competition is NOT other dealerships.. it's literally anyone in your target market's newsfeed

That's right, you're competing with Gary V, The Rock, etc etc. How does your approach stack up to their content?
Focus on stopping thumbs, not just asking for business and promoting offers on their own (from cold audiences).
What this means:
Forget dealerships, ANYONE we've worked with, crushing it on Facebook/Instagram and seeing sales, they leverage the most important buying currency: TRUST.
You need to understand what makes you different as a dealership,
dig deep and double down on it
.
Do you want people to stop viewing your inventory as commodity? ("just give me the best deal")
Why do people buy from you if they can get the same vehicle somewhere else? and for less?
What experience do you offer that can't be duplicated? (because it's YOU)
What is the
UNIQUE VALUE
that you bring to the market, that will make customers say "Ok, these guys aren't like the rest and won't [insert dealership stigma/stereotype here]."?
EXAMPLES

Typical Dealer Ad
(brands omitted because I'm not here to put anyone down, but it's important to visualize this):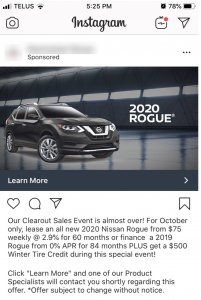 Takeaways:
Copy is almost always 100% offer, logic, pricing & numbers-based
Nothing in these types of ads give details about these dealerships, why they're THE choice to buy from, instead of being A choice
Ads that have worked well for our dealers (high impact on actual sales)
*Yes I've omitted info in these ads (tag lines, specific selling points) but the core principles are still laid out below and can be actioned. Don't worry, nothing is held back here.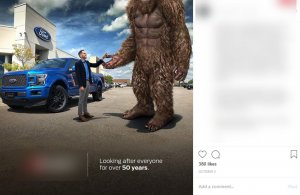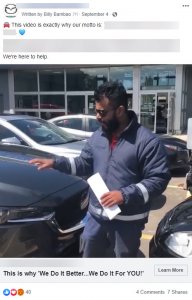 Ford ad was focused on communicating how people from EVERYWHERE buy there, JUST because of how awesome the buying experience is

... and yeah, even this BigFoot looking guy buys his toys there.

While we LOVE producing this stuff for our clients as it always inspires fun, excellent engagement, you don't NEED it (but it def won't hurt and it WILL set you apart).

The Mazda ad is far easier to execute and has been highly effective as well, breakdown below.

Mazda ad was focused on highlighting customer video testimonials and details about how great the buying experience was.

And yes, I know the ad got on angry face. Who knows lol, but the ad impacts multiple sales every single month and all we need to do is refresh the video once in a while with new ones. It's like clockwork.


Get staff to record multiple, quick videos (20 seconds or less, each) cut them all together in a montage using the built-in Facebook tool OR a cheap app like Headliner.app

High amount of engagement on these ads, this makes the Facebook algorithm happy, fills our "warm audience" bucket nicely and at cheap cost (more on this below)


Ads focused on WHY, in addition to WHAT and HOW MUCH
And here's one more ad creative that has absolutely crushed it for a Ford/Roush dealer (high impact on sales):
I'm sharing these examples because I know all of these dealerships personally, and:
The dealers running the first two (Nissan,Chrysler) ads know they're getting SOME leads from the ads... but not sure how many are converting to sales OR don't really know how effective they are. These dealers are not clients but the people behind the marketing are colleagues that share insights openly with me.

CPCs are in the $2-$5 range
Low ad engagement (few likes, shares, comments)

The dealers running the second ads are clients of mine, and KNOW they are impacting sales at a HIGHLY profitable rate (more on how to measure this below).

CPCs are in the $0.50 - $1.50 range
high rate of engagement (and thus, high relevance scores and low CPMs = wider reach at cheaper cost)
Highly engaging copy + creative = cheaper reach, traffic, CPMs... and as result, impact on sales.
In conclusion, running ads with strong ad creative, thoughtful copy will take you a long way in cutting through the noise of the newsfeed and earning attention.
To bolster your efforts in this area,
Read these books and/or give them to your staff if you're running ads and/or use them as a guideline so your staff can guide your agency:
The Ultimate Sales Letter by Dan Kennedy
All Marketers Are Liars Tell Stories by Seth Godin
Seriously, if you implement the teachings in these books to your
Vehicle descriptions
Facebook ads
Google ads
Landing pages
You WILL be light years ahead of your competition and command attention in all your marketing.
Ok, this was a lot... appreciate you sticking through this much.
Still with me?
Let's get into the meat & potatoes (structuring your campaign with these principles in mind):
2. Strategy: "Handholding" Funnel Technique
Here's how we structure ad campaigns for maximum sales impact and essentially "hold the hand" of a customer through a marketing funnel, without them realizing it.
From a high level, it looks like this:
Top of Funnel Ads (introducing brand, offers, vehicle features with clear unique value propositions)

Middle of Funnel Ads (getting more specific with offers, driving leads, further qualifying warm audiences, giving value/advice and building a relationship)

Bottom of Funnel Ads (reinforcing your unique value propositions, driving leads... this is the easiest audience to convert because they KNOW you already)
So in other words, here's an EXAMPLE of the experience you want to create:
TOP (Handshake + Qualify) : "Hey how's it going, looking for a new car? Here's what we've got going on and I think it's right for you."

MIDDLE (Handhold) : "Awesome you're interested to some level... did you know X about Y vehicle? It's a great feature. Take it for a test drive?"

BOTTOM (Walk them to YOUR dealership) : "Still curious? I'd love for you to try driving X vehicle... You're going to love how it handles!"
MOST dealerships unfortunately do this (hard truth):
TOP (offer) : "Drive this X vehicle for 0% APR! Wanna buy it?"

BOTTOM (offer reminder) : "Hey saw you were on my site looking at these vehicles...Did you buy one yet?"
It's no wonder customers price-shop aggressively. From what we see much of the time... Dealerships push price, discounts and promotions to COLD audiences.
The BIG reason we use a softer approach at top of funnel is purely because
We're targeting cold audiences here... going for the kill OR focusing purely on pricing/offers at this point is newspaper-age advertising strategy and doesn't fit in today's social media/newsfeed climate


We want people to be interested in what we have to say first, and take meaningful action... (hitting the like button, watching a video, clicking through, commenting, sharing)

Then consider us,
Then get woo'd,
THEN buy (and track all of it, more on this below)

...all while we continue to get in front of them, at the right place, right time, with the right content.

This strategy plays right into Facebook's algorithm that's driven on giving valuable content first, getting engagement, being liked

So yeah, swim with the tide, not against it.
Alright, here's how we structure campaigns to achieve this:
Top of Funnel
: Focus on Product, Experience, Brand
Targeting:
Interests, Lookalikes, LTV Lookalikes. EXCLUDING anyone that's bought in the last 180 days.
Objective:
Engagement, Video Views, Traffic, Lead Ads (depending on client goal and ad creative)
Creative:
Brand Story Videos, Vehicle Carousel Images, Staff Images, Light Mention of Offers
Copy:
Introducing your brand, Offers with Unique Value Proposition or Unique Value Propositions Only
Goal
: Get user engagement at cheapest cost as possible -> QUALIFY people -> bucket them into the middle of funnel (identifying them as potentially being in-market)
Example TOP OF FUNNEL Ad Creative (VIDEO):





Middle of Funnel
: Offers, Test Drives, Quotes
Targeting:
Top of Funnel Engagers/Traffic. EXCLUDING anyone that's bought in the last 180 days.
Objective:
Engagement, Video Views, Traffic, Lead Ads (depending on client goal and ad creative)
Creative:
Video & Image Offers, Vehicle Feature Videos, Blog Posts, Seasonal Advice, Vehicle Walkarounds
Copy:
Align with creative
Goal
: Test offers, nudge user toward conversion/action (test drives, call, visit, text, etc)
Example MID FUNNEL Ads: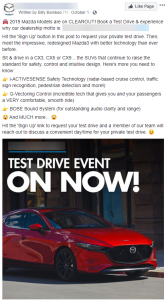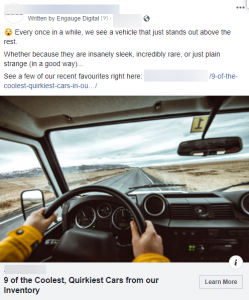 Bottom of Funnel
: Reinforce your WHY
Targeting:
Middle of Funnel Engagers/Traffic. EXCLUDING anyone that's bought in the last 180 days.
Objective:
Traffic, Lead Ads (depending on client goal and ad creative)
Creative:
Customer Testimonials, Staff Interviews, Offer Images/Videos
Copy:
Focus on EXPERIENCE-based selling (why you can trust us, why others trust us, vehicle warranties & reliability, service plans, addressing typical objections)
Goal
: CONVERT
Example BOTTOM FUNNEL Ad - See below:
In depth video overview of staff talking about what makes them different.
This ad was produced over a year ago but the dealer continues to run it today, because it impacts sales every single month.
3. ROI & Ad Impact Strategies
Honestly my favourite part of the whole process and this is where you'll see your paying off.
First, it's important to measure MULTIPLE KPIs with your campaigns.
This way, you get a higher, 30000 foot view of how things are performing overall. If one area (leads) drops off, you can corroborate with other KPIs and look for trends.
Example:
Did Leads fall off? Check Foot traffic... did it drop off as well? Was there a holiday? Are we running the right offers?
Did Foot traffic fall off? What did phone traffic look like? Can we listen to sales calls and see if there's a bottleneck there?
Did Sales overall fall off? What did our offline attribution look like last month (detail on this below)?

etc.
Now,
Many businesses focus on driving site traffic & lead generation at volume, but it can't stop there.
And here's why,
What if someone clicks on an ad, views your website and calls you from their wife's phone? (and buys 2 weeks later)
What if someone watches a video, loves the offer and calls you from their cell phone? (and buys 3 weeks later)
What if someone clicks an ad, loves the offer and drives up on the weekend with their family? (without submitting a lead... and buying 4 weeks later)


Wouldn't it be great if you could (in addition to just knowing lead generation numbers):

Know exactly which ads, audiences, campaigns, had an impact on sales? (so you can adjust/optimize accordingly)
Know how your campaigns affected foot traffic?
Three ways you can reel this in:



1. Offline Conversions
Upload your sales data every single month Facebook (or you can do this automatically if you're a fancy pants and have a CSV feed)
Facebook will tell you (within 28-day windows) if someone viewed/clicked your ads and purchased a vehicle

They look at your sales data
Match your data to actual Facebook account holders
Match those Facebook account holders to YOUR ad engagement data
Spit out the number of sales impacted by your campaign

CAVEAT: If you have alot of fleet/business buyers or customers that put business related info on their bill of sale, this may impact Facebook's ability to match that customer data with FB accounts (and as result, your ad data)

PROTIP #1: Include your cobuyer, driver info, buyer info in the sales data to maximize your match rates.

PROTIP #2: MAKE SURE you have Advanced Matching enabled on your Facebook pixel to maximize math rates.

PROTIP #3: Include gross profit per deal in your sales data if you really want to know your ROI impact to the dollar.

Here's how: https://developers.facebook.com/ads/blog/post/2018/07/20/advanced-matching-pixel/
Once you've done this properly, you'll see a report like this: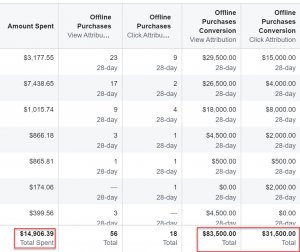 Now you know exactly which campaigns people A) Saw or B) Clicked before they bought one of your vehicles.
Yes, this is a real client example. They aren't able to export exact gross per deal so they have an assistant enter flat approximates for each (although if you can get exact here, all the better)
IMPORTANT
: When looking at this, this does NOT mean that you spent ~$15K and got $135K directly out of it.
Car buying does NOT work like that and the customer journey is NOT linear.
https://www.thinkwithgoogle.com/con...process-reveals-auto-marketing-opportunities/
https://www.facebook.com/business/n...auto-buying-journey-of-the-connected-consumer
Car buyers do a LOT before they buy. They go all over the place and take information in on multiple platforms, websites, and offline sources.
But, it's critical for you to know that your ads are doing the job to get in front of them BEFORE they buy, and that they are playing a role in the process.
So what these numbers DO tell you, is what part of your dealerships message, strategy, campaign, ads, ad creative are working/not working to get in front of people and impact their decision to buy.



2. Foot Traffic
Did you know Facebook automatically tracks how many people see/click your ads and then step foot into your dealership?
CAVEAT
: This metric isn't available in ALL states/provinces/countries but you should check for it.
Here's how to find it,
Log in to Facebook Business Manager
Go to your PAGE (not ad account)
Click on Insights near top of the page
Click on Local on the Left
At this point if you haven't opted in to let Facebook track location data for you, you'll be asked to opt in
If you're already opted in, read on...
Track this metric to see how your ad spend trends against foot traffic.
Keep a spreadsheet handy to log month over month peaks & valleys so you can optimize your efforts, more closely understand if:
A specific time-sensitive promotion impacted foot traffic
Month end promotions spiked foot traffic
Change in strategy negatively dropped foot traffic
Test drive events/offers spiked traffic
etc.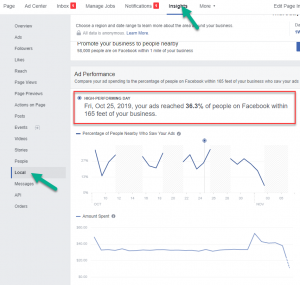 3. Leads
Ok this topic has been covered at reeeeeally great length in this forum in the way of Lead Ads, Landing Pages, Website, etc.
So you very likely already know the deal here, it's pretty easy to set up lead ads and get leads if you've got the right campaign strategy/setup.
Measure leads, compare lead data to sales data, all the fun jazz there.
But, hopefully this post helps you understand other strategies & methods to drive & measure your ROI.
And that leads to the conclusion!
Conclusion: You made it!
There honestly hasn't been a better time to take advantage of FB/IG.
Yes, costs are rising. There's lots of news/talk of this going around, since FB is no longer the hidden advertising gem of the digital world.
However, the algorithm is STILL built to favour those that put out great, engaging content and ads that generate meaningful action.
Everything I've dropped in this post is exactly how I "hack" the rising costs and measure results.
Take what you see is valuable and run with it!
Here for any questions of course as well.
Cheers,
Billy
Last edited: