Hello,
I am a new member to the board, but I have been looking and researching on here for months on end. I have looked into so many online providers from ecarlist, dealer specialties, vinsoultions and autofusion.
I have read about special analytic tracking, hot maps and the importance of VDPs and CRMs. I just do not know where to begin for my next step, how to track leads and have a better way to connect and close online customers.
I have been selling cars for 6 years, and recently adding a second location and need to be hitting higher numbers. I feel we buy the right inventory for the area and have a cheap recon system. We have many finance options and can close any deal that walks in the door.
I use dealercenter for my DMS and carsforsale for my website. We have a high end package with autotrader, package with cars.com, run monthly ads on facebook, and post to criagslist. I need to be selling 35 cars a month every month. We have the sales staff and recon team to get this done, just not enough hard leads.
We currently sell around 20-25 per month right now with 30-40 in inventory. My average VDP for this month on autotrader is 240 per vehicle. What do you guys think I can do to better my presence and turn these VDP into actual real customers. What direction do you think I should go for website and increasing conversion?
I will attach activity from autotrader. Take a look at my inventory here,
www.buyultimaterides.com
By the way, I love this board!
UPDATE:
Now using DealerFire for our website.
Thanks in advance, Nick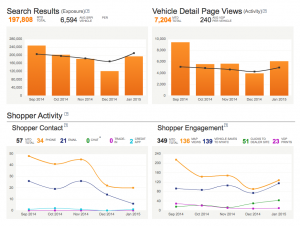 Last edited by a moderator:
1
Reactions:
Jeff Kershner