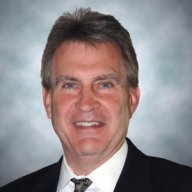 Apr 26, 2013
10
5
First Name

Brad
Auto sales in 2019 came in above the magic 17-million mark, according to our team at Kelley Blue Book, but just barely. Vehicle sales of 17,042,363 kept the streak alive, but that number includes medium duty pickups and exotic cars. As our Chief Economist Jonathan Smoke notes, it was fleet sales that got us to 17 million. Fleet volume was up last year, likely at a record level, while retail sales were down, a sign that consumers are buying fewer new cars and the market is under pressure.
If we use incentive activity as a measure, it's clear the automakers were working hard last year to maintain the strong sales pace and protect profit margins. Production and new vehicle launches helped make 2019 a record year for incentives, according to our team at Cox Automotive Rates & Incentives.
It is true that incentive volume tapered off in December
–
the low point for the year, in fact
–
but the volume was still enough to push 2019 to a record level as seen in the chart below. The lower volume in December was likely due to many Black Friday-type incentives introduced in November and carried over unchanged through December. GM and FCA, for example, moved to employee pricing in effect lowering the MSRP and incentives needed through much of the final two months. The record volume of incentives were applied at VIN/vehicle levels in order to target spending only on vehicles which needed discounting while protecting margins on more desirable vehicles or fresh product not needing large discounts.
We know consumers had a large selection of vehicles to consider from both 2019 and 2020 model years at year's end, with large discounts and favorable pricing and payments to help buyers stay within budget. Still, even the heavy incentives were not enough to drive strong sales numbers, which came in lower than forecast in December.
While incentive volume was lower in December, the value of those incentives remained high. In fact, 2019 ended at what is likely a record for incentive spending as a percentage of average transaction price (ATP). Incentive spending has been consistently climbing for the past five years, as the industry has kept alive its streak of 17 million. In fact, incentive spend in 2019 was 22% higher than it was in 2015, climbing from 9.08% of ATP to 11.12%.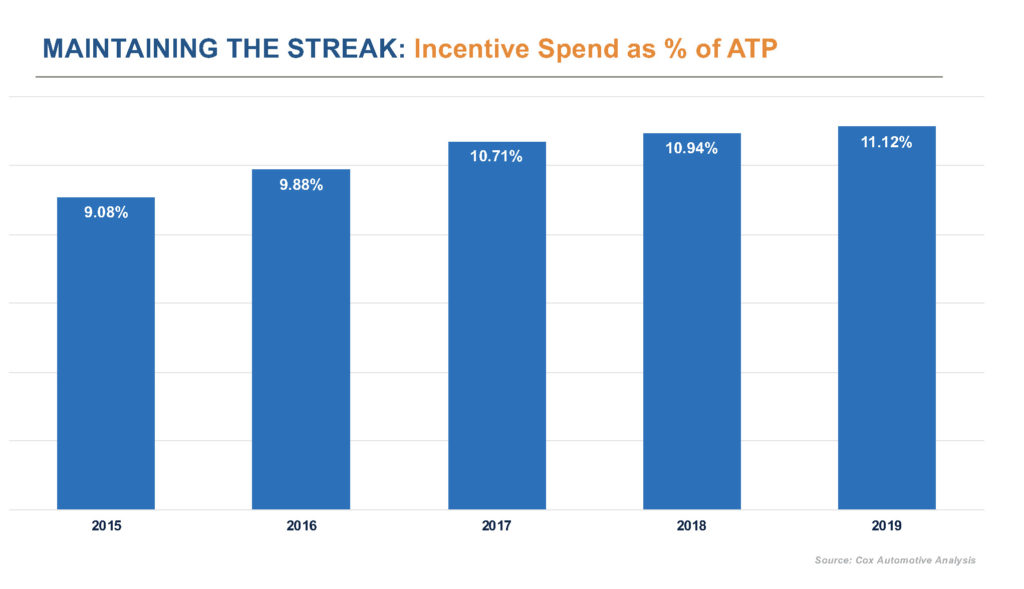 The year ahead won't be any easier. With inventory levels low, we can expect incentive volume and spending to be held in check. But lower incentives could also spell a slower than normal Q1 for retail sales. Our Industry Insights team is forecasting full-year sales in 2020 to come in at 16.7 million vehicles, as measured by Kelley Blue Book.
Are automakers ready to give up on the streak? Incentive activity in early 2020 will likely tell.
Brad Korner is general manager of Cox Automotive Rates & Incentives. The  Cox Automotive Rates & Incentives  (CAR&I) team has developed a methodology for measuring the accuracy of data used to calculate pricing and payment information presented through dealer service provider tools (e.g., dealer websites, inventory management, digital retailing & advertising, desking, equity, etc.).  Approximately 17,500 individual dealerships –  rooftops, in automotive parlance –  in the U.S. rely on CAR&I  incentive  data  for powering  5 different software applications through Cox Automotive native software/sites and our many industry partners. In all, an estimated 90,000 applications are relying on CAR&I data in a given month, providing valuable information to 40 million shoppers.
Last edited by a moderator:
1
Reactions:
Alex Snyder