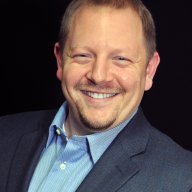 May 1, 2006
3,156
1,984
Awards

1
First Name

Alex
Earlier this year we launched a new feature that translates the customer's behaviors into something anybody in the dealership
should
be able to understand. It looks like this:
BETA | Yes! Cassie has played with your cars & payments two different times. They spent the most time looking at loan payments and it looks like the goal was around $314. The sweet spot loan term seems to be 84 months. They believe their credit is somewhere between Great and Good. They might not be sure what downpayment makes sense to them as they played with down payments up to $3000. They drive 12000 miles per year. It looks like they have a "2012 Honda Accord SE" to trade. They believe the payoff is $0.00, and they want $7000.00 for it. They reacted with I want a Trade Appraisal! .
And you can look at the entire click & visit history of that person
here
.
(Note: as cars sell, the images disappear)
After watching this for a while I made a thread about "
Ludicrous Leads
" because we could see patterns that determined how close a customer is to buying. Yesterday, we released a way to comb through all of the customers to take action on the ones that are closest to buying. That looks like this: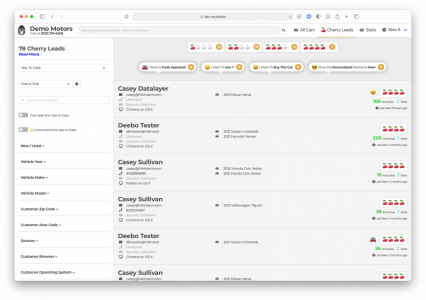 For the data junkies there is a lot to play with in there, but for the BDCs and Internet departments it sure is a nice way to start the day making calls with confidence that you've got a customer who is likely to buy and absolutely engaged with your car(s), and you know exactly what their motivation points are.
We will continue to tune the number of cherries with more buying signals we discover along the way. Our next line of work is to deliver these as notifications so people don't have to log into our tool to check on things. We already send them into the CRMs, but they'll have the added benefit of making sure management knows a cherry lead is ready for cherry pickin!
And then we're off to get people to give us more trades. I think you all can use them.
5
Reactions:
Jim K, donnyscobedo, Jeff Kershner and 2 others