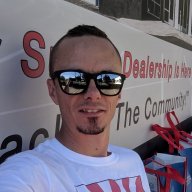 Oct 12, 2015
412
381
Awards

1
First Name

Christian
I also use VinSolutions (not particularly a fan), but I can't really see how/why you couldn't use custom status/processes to achieve what you're looking for? We use them to segment a ton of different 'types' of contacts in VinSolutions. I'm sure I'm missing something, but I would gladly open a feature request if this is not currently doable.
A Custom process could work, however,everyone would have to know that "Sales lead marked bad > Underage prospect" is the tag to use for street bought vehicles.
By not being able to dealer customize the hard coded Status terms, it is a hack, more than a solution.
Please add to the demand by putting in a feature request, from what my rep has said, there have been enough requests so far to generate discussion about how/when to implement. If we can keep the requests coming in, it has a better chance of happening before the next decade.