May 1, 2005
3,514
1,114
113
First Name

Jeff
Received this in the mail today...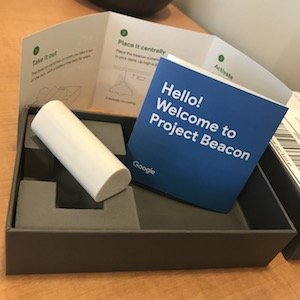 It's a beacon, from Google. So I googled it....
About Project Beacon by Google
Google is piloting a program where we send beacons to businesses with physical locations to make their venues more visible to customers with mobile devices. The program is currently free. Here is how it works...
Benefits

Beacons help mobile devices determine a user's location more accurately. When a user's smartphone has a better understanding of their location, you can unlock a wide range of new features, and set up your business to use location-related features across Google:

Help your business show up on personal maps or saved places, where users have opted in to Location History.

Gather photos, reviews, and other user-generated content for your business from people who've actually visited.

Provide features like Popular times and typical visit duration to help customers plan their visit to your business.
Help provide Location Insights about how customers engage with your store. Visit your Google My Business Insights Page to learn more.

Access more features as they become available.
Keep in mind
The features available to your business depend on the number of users that visit your venue, visit durations, size of venue, and other factors. We can't guarantee any particular feature will be available to your store.

Requirements
The Project Beacon pilot is available to selected businesses in the US and UK.

In order to take part in the trial, you must receive a beacon from Google. If you're interested in receiving a beacon, fill out this interest form.

If you've already received a beacon, you can set it up by following the instructions enclosed in the box it came in, and completing this form.

How it works
The beacon transmits a one-way code that's unique to your venue. When a user visits your venue with location services on their device turned on, their phone can use the beacon signal in order to understand that it's visiting your store. The beacon itself does not collect or store any information. It only provides a helpful signal to your customers' phones.

We may ask users who've visited your venue to contribute reviews, such as star ratings, answers to quick questions, photos, and more. Once enough of your visitors' phones have detected visits to your store, we're able to turn on aggregated features such as Popular times for your venue's Place Page.

The data shown in these products is based on anonymous, aggregated visit statistics. It's not possible to tie a particular visit back to a particular individual. We use industry best practices to ensure the privacy of individual users.

Of course, you can choose not to participate after receiving a beacon. This won't affect your business or change how it currently shows up on Google. But by setting up your beacon, you'll be able to take advantage of a wide range of location-enabled features like real-time Popular times and visitor reviews.
Anyone else receive one of these?