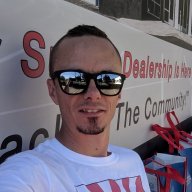 Oct 12, 2015
373
349
Awards

1
First Name

Christian
That is correct. We average 130 per month. The local Ford/Chrysler/Ram/Jeep dealer sells about 45, but I believe that's all they want to sell. The closest competition for either of our stores is over an hour away. Locations like ours are Rydell's sweet spot.
Hello from a newly acquired Rydell store! It's been amazing how well we have turned the corner since the purchase, great crew - just had some Foster training this morning.
@BillKVMotorCo

, have you ever done a study that looks at "distance to the sale"?

Download your sales for 3 months, include the buyers address. Copy and paste that SS into

https://batchgeo.com/

. Your mind will see all kinds of interesting stats.

Break the list into two and see new vs used.

Add OEM tags for new cars

Enjoy!

p.s. A few more cool tools

Forget a Name? 6 Tips for Faking It https://www.psychologytoday.com/blog/the-happiness-project/201111/forget-name-6-tips-faking-it Word tracks to improve your game. I like #1, 3 & 4. "I keep wanting to call you 'David,' but I know that's not right." If anyone has a favorite word track for...

forum.dealerrefresh.com
Checking out Batch GEO now, and the other cool tools, thanks for sharing.
@BillKVMotorCo

[/USER] since you are already drinking the G-Suite Kool-Aid at your store (I'm jealous) you can also use Google Maps to plot those ongoing places and data as well. If you haven't used that yet. Open Maps, click My Places, then Maps tab, and Add Map at the bottom. You can associate your Sheets instead of exporting to CSV, etc.
Will give that a look, as well.
Also, will likely reach out, per the themes vs templates thread. Appreciate the offer.
2
Reactions:
joe.pistell and Dan Sayer