Mar 21, 2012
549
708
193
First Name

Ryan
Like most dealers, we are begrudgingly paying Autotrader tens of thousands of dollars a month to list our cars on their website.
I've become accustomed / numb to seeing OEM banner ads on Autotrader SRP pages, however I've always felt that the VDP has been the one page that focuses primarily on my dealership.
However when I just checked out my VDP's I noticed that Autotrader is pushing my dealership contact information (phone number, address, website link, contact form, etc) below the fold so they can serve a competing OEM's banner ad???
Toyota is one of Honda's largest competitors. Why am I paying Autotrader all this money to turn around and try to conquest my Honda shoppers and make it more difficult for customers to contact me?
I'm a reasonable guy so I would be fine with a Toyota ad at the bottom of my VDP but not at the very top above my dealership contact information! I know Cars.com and CarGurus serve banner ads on VPD's too, but there's a big difference - the dealership contact information is still front and center.
Who does Autotrader care more about, their dealer clients or competing manufacturers? The answer is apparent and a new low for Autotrader. Autotrader should be reimbursing dealers for any banner ad revenue they've generated off of our backs.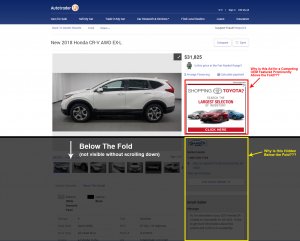 Last edited: