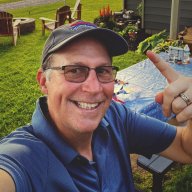 Apr 7, 2009
4,018
1,542
First Name

Joe
Food for the creative thinkers, here's 15 yrs of thinking to kick around.

Jasen's interesting "Cars.com BIG DROP since new design?" post lead me to this off-shoot.

I am surrounded by technologists that chase 10 yr old KPIs ("we need more leads, more VDPs, more T.O.S", etc). IMO, we're human, we get lost in the data & we forget:


Stats don't buy cars, people do...
If you don't intimately know the car shopper(s), then your stats are just stats. Everything we do should be seen thru the shoppers eyes (stats incl'd)
​
Shopping is a TASK.
The goal is a smarter and more efficient shopper. Only neanderthals think that putting obstructions in shoppers workflow will sell more cars. They forget shoppers have free will. Agreed? Now it gets interesting. As counter-intuitive as it sounds, a smarter and more efficient shopper spends less time shopping, sees less pages and the leads they send in are fewer, but the leads have a higher closing ratio.​
WOW, less VDPs too?
Sometimes yes and sometimes no.
I challenge my brainy technology pals with a puzzle: "Can We Define What a Productive Shopping VIsit Looks Like?" This elegantly simple question shines a light on what we're all trying to achieve. If you know you want a F150 XLT long bed in black and you've been to RalphFord.com every day, you've seen all the VDPs already, you just popin, ck for new arrivals and dissapear. This shopper never saw a VDP, yet, they are the best up you'll have all day.



We know that shoppers are complex and so should be the 'shopper satisfaction' model.
OR NOT??
It is my opinion that the best KPI ever is hiding under our data tracking noses...
It's Repeat visits.
​
IMO, that silly little overlooked KPI holds the keys to the promised land. Simply put a 'repeat visit' is a vote of shopper's approval. They came before, liked what they saw and are back. Survey your BUYERS at delivery and your eyes will pop out. ~60% of all sales came from repeat visitors at your site 3 times or more*.
It's NADA time.
Dealer's,
shoppers use the internet to decide who to NOT VISIT. Your mission is to be a finalist. When you're evaluating fresh new ideas, ask yourself & your team these questions.
Will my shoppers leave this site smarter than when they arrived?"

i.e. on your web site: Can the site answer questions that my competitor's can't answer?

Can the site demonstrate a highly effient use of a car shoppers most precious asset... TIME?

Will this improved experience be better than my competitors and cause them to return??

HTH!
-Uncle Joe


*small 3 dealership survey, your miles may vary