Apr 7, 2009
4,250
1,740
0
First Name

Joe
Wow,
This diary is filled with some cool sh*t.
@reverson
I'd love you to REV up yours
Uncle Joe's Coffee Thoughts:
Manheim UV Index has exploded to crazy new highs.
I created a chart that tracks the PRICE CHANGES of buying a hypothetical 2yr old, low mile car at wholesale for $15,000 with the intent to sell it for 18-$20k for a $2,500 gross (after all related expenses). In May 2017, the Used Car Market took off to new highs pushing the relative cost of that same 2yr old, low mile used car from $15k to $16,500 to $17,000. Either the dealer charges more, or, the $15,000 buy is less car than it was just 18 months ago (e.g. higher miles, lower trim, etc).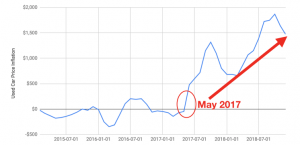 Add to this rising interest rates and we've got a soft marketplace and some dealer margin compression goin' on.