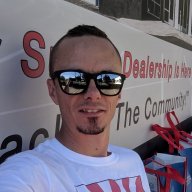 Oct 12, 2015
373
349
Awards

1
First Name

Christian
That looks a lot better and much easier for me to stomach (wtf is Frikintech, lol). I'm constantly looking for other dealers insights and I'm told, dont' share enough of mine so here goes.
Jan-October
Trader 8.84% but cancelled due to $714.28 cost per sale over the period. Lead volume drop was very drastic after we added carfax october 1. Closing ratio jumped in October to 13.33% but due to lead drop our cost per sale was $1,653.00 per copy (ouch). 2 sales out of 15 leads.
Guru we've been steady @ 6.7%
cars.com 6.53%
Chrysler 3rd party is 6.39%
Our website ranges from 7.06% - 15.91% for an average of 9.23%. All year we've been distributing directly to sales staff and it's been clear the current closing ratios are much lower than is acceptable even though the cost per sale is under $120 per.

We're a single point CJDR store. Any feedback on our numbers would be appreciated?
FrickenTech is an awesome landing page system, that generates payments on entire inventory, that can be customized based off site visitor's inputs.
@Alex Snyder
and his team did great with it.
2
Reactions:
BillKVMotorCo and Alex Snyder